But Instead, What If That Character Was:
Theo (played by Clarence Gilyard, Jr.), Hans Gruber's tech specialist from the original Die Hard.
How They Could've Done It: 
The real question is, why didn't they? Why did they have to introduce a new master hacker character to be the villain of the fourth movie, when one of the only bad guys who survived the first movie just happened to be a hacker?!?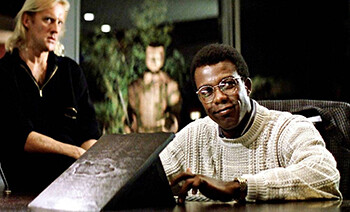 Only two members of Hans Gruber's crew made it out of the first movie alive: Theo, and the guy John McClane knocked out just outside the vault right before his final showdown with Hans. These two men would've been on the hook for all of the carnage that took place during the raid on Nakatomi Plaza. Seeing as the second guy's role in the plan appeared to be limited to (checks notes) carrying stuff, he most likely would've rolled over on Theo in a heartbeat.
So, what would Theo do to try to save his own skin? He'd cut a deal with the feds in exchange for his services, using his hacker skills to help the government strengthen their arsenal against cyberterrorism. He would work with the Department of Defense to beef up their security measures, and with all of his hard work combined with good behavior, his sentence would be greatly reduced. But it turns out Theo had been playing the long con this whole time. Once he played nice long enough to secure an early release, his first act as a free man would be to launch a massive cyberattack on the systems he helped create.
Bringing Theo back as the bad guy would give a more concrete reason why McClane was brought into the story in the first place: who better to bring in the one hacker who could help stop the attack, than the cop who put the villain away the last time?