With most movie theatres still closed, streaming video is the only way we're getting any new movies right now. This past weekend there were a few options to choose from; Netflix had The Old Guard starring Charlize Theron, and Apple had the Tom Hanks vehicle Greyhound -- which apparently is a World War II movie, not a sequel to The Terminal in which that same dude is living in a bus station. We also got Money Plane ...
... an action movie starring WWE champion Edge, Denise Richards, and Kelsey Grammer's palpable need to deliver multiple alimony payments. Our first indication that this movie might not be great was the poster, which seemed almost scientifically-calibrated to corner the Walgreens' DVD discount bin market. 
Quiver Distribution
The actual movie isn't so great either; the opening heist takes place in a jarringly unspecific "Art Museum," where a priceless masterpiece is housed inside of a small room that looks not unlike a production office with all of the furniture removed.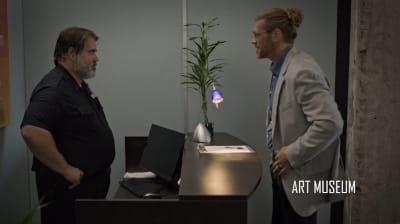 Quiver Distribution
Quiver Distribution
In a scene that's been making the rounds on Twitter ...
... our hero, Jack Reese, meets with mob boss Darius Grouch the Third, AKA "The Rumble," played by Kelsey Grammer. Rumble enlists Reese and his crew to rip-off the titular Money Plane, where the "baddest motherfuckers on the planet" run an illegal gambling ring. As Grammer elucidates: "You wanna bet on a dude fuckin' an alligator ... 
money plane." 
Which is a weird sentence to hear out of