Our protagonist, Alan, gets in a fight with some bullies. His dad praises him for the senseless violence and proudly announces that he'll be moving to a private boarding school -- which prompts a blow-out argument.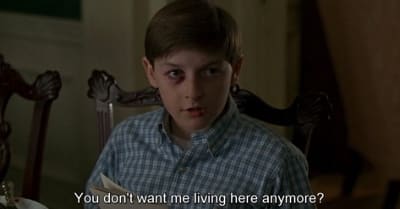 Having a young American boy being shipped off against his will in 1969 seems pretty loaded. Then Alan plays Jumanji; the game's iconography evokes old-timey Western colonialism and imperialism.
The game, a symbol of Western violence, sucks Alan into it. When we see him in the future, he's bearded, jumpy and the world has left him behind. He clearly is suffering from some form of PTSD from his time in the "jungle". It's practically Born on the Fourth of July with rhinoceroses.
The bloodthirsty safari animals of the game are basically Alan's emotional scars made manifest; as is the "hunter" character Van Pelt, played by the same actor who portrays Alan's dad. Van Pelt also illustrates that, while the Vietnam War may be over, America still has a problem with its culture of violence. When Van Pelt tries to buy a new gun, he's told to fill out paperwork and wait. Instead he throws down some gold coins and is immediately handed an assault rifle.
And in further reference to Vietnam, after Alan and his friends have saved the day, we see that the Jumanji board has washed up on a beach seemingly in France -- because, obviously, France has their own bloody history with Vietnam to reckon with.