5 'Bad' Movies (That Aren't)
Not every movie is amazing -- if they were, Rob Schneider would currently be the world's wackiest Best Buy salesman. But, as we've mentioned before, sometimes some of the "dumb" movies we dismiss contain hidden layers of artistry that largely go unnoticed, such as how ...
Indiana Jones and the Kingdom of the Crystal Skullis a Meditation on Death and Regret
When Indiana Jones and the Kingdom of the CrystalSkull first hit theaters, a lot of fans were disappointed, if not straight-up outraged, by the goofy CGI aliens, CGI monkeys, and the CGI that was used to cover-up Harrison Ford's earring. We get it; it's a bad, bad movie. But it's also not without some deeper, more depressing themes lurking beneath the surface.
Take the controversial opening scene; imagine for a moment that it serves as a symbolic representation of Indiana Jones' psyche. It begins with a chase inside Area 51 in which, not insignificantly, is where the Ark of the Covenant has been stashed away; a token, not just of Indy's first adventure, but of his lapsed romance with Marion Ravenwood.
After this brief visual reminder of his former lover, Indy ends up in a quaint suburban community where families are living the domestic life he rejected in favor of adventuring ... sort of.
It isn't real. And Indiana Jones is too old to settle down and start a family. So this vision of the path not taken is obliterated.
Indy, famously, ends up in a goddamn refrigerator. Which is dumb. But tipped on its side, the fridge looks more like a coffin. If we interpret this scene as almost like a dream, it plays like a regret-filled nightmare. We have the Ark, representing Marion. The fake town, representing the family life he eschewed for adventuring. And since all of that is left behind and/or destroyed, all that awaits him is death.
These existential fears are further underscored when we learn that Indy's dad and Marcus (the two dudes we last saw Indy with, riding into the sunset at the end of The Last Crusade) are dead. If you think we're just pulling this out of our butts, consider this; we're suggesting that this first scene symbolizes Indy's fears that he let Marion go and will never have a family -- and in the last scene he is married to Marion and they have a son.
As for fears of mortality, death is practically stalking Dr. Jones at every turn in this movie. Early on, Indy and Mutt rob a grave protected by people in skull masks. From a visual standpoint he may as well be brawling with the Grim Reaper himself. And the very first shot dissolves from the Paramount logo, not to a mountain like every other Indiana Jones movie, but to a pile of dirt. Yes, it belongs to a gopher, but the image is more reminiscent of a grave than a majestic overture to adventure.
And the gopher may be a pointed choice here, because gophers are "messengers of the underworld by many western tribes" and "sometimes seen as a symbol of death." Tellingly, that gopher returns after Indy has had his symbolic death in the fridge, almost taunting him. At the end, after he's gained a family, Indy and the gang emerge from the ground-- not unlike the groundhog. It's a rejection of death, and a symbolic rebirth. (Then they watch as a flying saucer zips by, because George Lucas is a stubborn lunatic.)
Jumanjiis About the Vietnam War
Jumanji, the 1995 family movie about the deadliest board game that isn't Settlers of Catan with your best friends. While it's remembered fondly, Jumanji wasn't exactly praised by critics. Roger Ebert called it a "gloomy special-effects extravaganza filled with grotesque images, generating fear and despair." But hey, maybe some of that "fear and despair" was intentional, because Jumanji (not unlike Aliens) is totally an allegory for the Vietnam War. Jumanji opens in 1969, at the height of the war, and crucially, the same year the draft lottery was first introduced.
Our protagonist, Alan, gets in a fight with some bullies. His dad praises him for the senseless violence and proudly announces that he'll be moving to a private boarding school -- which prompts a blow-out argument.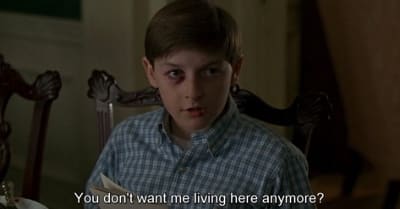 Having a young American boy being shipped off against his will in 1969 seems pretty loaded. Then Alan plays Jumanji; the game's iconography evokes old-timey Western colonialism and imperialism.
The game, a symbol of Western violence, sucks Alan into it. When we see him in the future, he's bearded, jumpy and the world has left him behind. He clearly is suffering from some form of PTSD from his time in the "jungle". It's practically Born on the Fourth of July with rhinoceroses.
The bloodthirsty safari animals of the game are basically Alan's emotional scars made manifest; as is the "hunter" character Van Pelt, played by the same actor who portrays Alan's dad. Van Pelt also illustrates that, while the Vietnam War may be over, America still has a problem with its culture of violence. When Van Pelt tries to buy a new gun, he's told to fill out paperwork and wait. Instead he throws down some gold coins and is immediately handed an assault rifle.
And in further reference to Vietnam, after Alan and his friends have saved the day, we see that the Jumanji board has washed up on a beach seemingly in France -- because, obviously, France has their own bloody history with Vietnam to reckon with.
Iron Man 3Deconstructs How War Propaganda Works
Iron Man 3 is admittedly a pretty silly movie that lifted its villain straight out of a Pixar movie. But its most controversial creative decision is also its most interesting: turning a character born out of war propaganda into a commentary on how fear can be commodified. The Mandarin was originally a buck-toothed Chinese caricature created to give Tony Stark a Cold War adversary so. Meaning that, despite the fact that he was originally an anti-war figure, Iron Man was able to become "an anti-Communist crusader."
In the movie, though, The Mandarin is a mysterious Islamic terrorist who is eventually revealed to be a bumbling actor who is simply playing a role. Like, in the movie he's an actor, we're not calling Sir Ben Kingsley "bumbling."
This is all an elaborate scheme concocted by Aldrich Killian, a slick businessman stoking America's fears of Middle Eastern terrorism in order to make money. All of which is not that dissimilar to what happened in the U.S. after 9/11. For example, Vice President Dick Cheney made literal billions for his former company Haliburton, thanks to private contracts during the Iraq War. The movie isn't even subtle about making this connection, they literally had Killian's secret accomplice be a bald Vice President.
Which makes sense; like the original Mandarin, the modern military-industrial complex has its roots in the Cold War (the term was first uttered by Eisenhower in a speech warning of the dangers of military expansion in the 1960s). So in a meta-sense, The Mandarin has always been an American fabrication to obfuscate the business of war.
Jennifer's Body-- An LGBTQ+ Coming-of-Age Horror Story That was Marketed Like an AXE Commercial
Despite the fact that it was written and directed by two women, Diablo Cody and Karyn Kusama, respectively, when it was released in 2009, Jennifer's Body was marketed as if it had been made by a sentient beer keg and a tattered copy of Maxim.
Jennifer's Body is actually a nuanced, complex story of two adolescent girls untangling their own sexuality. Recently re-evaluated as an LGTBQ+ cult classic, the movie follows two close female friends, Needy and Jennifer. While typically Needy, the bespeckled introvert, would be the sexually frustrated character, here it's mostly Jennifer, who is gay, or at least bisexual. The movie's inciting incident finds Jennifer leaving Needy for some joyless sex with a dude from a crappy indie band.
The group tries to sacrifice her to the Devil in order to achieve stardom (you laugh but that's exactly how Arcade Fire got started). Things go south and Jennifer becomes a succubus, forced to feed on the flesh of humans. But once Jennifer becomes "evil" she's also able to start expressing herself more honestly. She even seduces Needy.
And her victims are, very pointedly, all men -- not the men who tried to murder her, but the men that Needy has a sexual connection with, including her boyfriend.
Needy is forced to take on Jennifer, but even then, doesn't blame her. The ultimate blame belongs to male entitlement, embodied in the shitty band who tried to slaughter a random fan instead of simply hiring a publicist.
The Rise of Skywalkeris the Opposite of Revenge of the Sith
Star Wars: The Rise of Skywalker is adored by some fans and hated by those who had a laundry list of complaints and probably weren't thrilled that Carrie FIsher was given the digital Weekend at Bernie's treatment. We're not here to unabashedly defend it, but we would like to point out that The Rise of Skywalker subtly works as a counterpoint to Revenge of the Sith; often inverting elements from the final movie in the prequel trilogy.
The scene where Kylo becomes the good Ben Solo is a reflection of the scene in which Anakin fully becomes the evil Darth Vader -- but instead of dueling amongst boiling lava, Rey and Kylo are surrounded by water.
The climax of The Rise of Skywalker is pretty much the opposite of the opening of Revenge of the Sith -- both Rey and Anakin wield two lightsabers.
Anakin uses them to please Palpatine (by beheading Count Dooku) and Rey uses them to destroy him.
And the two films' final scenes directly parallel each other, and in a way one resolves the other. Rey metaphorically reunites the Skywalker twins by burying their lightsabers together on Tatooine, while Revenge of the Sith ends with the twins being seperated. And both are observed by an elder Jedi; a concerned Obi-Wan and the contented Luke and Leia (albeit in full tacky velvet painting ghost mode).
Then Rey stares at the iconic twin sunset, looking less like Luke in A New Hope, and more like Owen and Beru.
A lot of these visuals serve Episode IX's central theme; the value of community and friendship, which works as a repudiation of the events of Episode III. Anakin turns to the Dark Side because the Jedi won't allow him to be in a relationship, since emotional attachments are forbidden. But The Rise of Skywalker reinforces over and over again that relationships are a necessary part of life; the good guys only win because their community shows up to fight, and the voices of every past Jedi pop by to encourage Rey. If Revenge of the Sith showed us the folly of the Jedi doctrine of emotional repression, The Rise of Skywalker showed us that the Jedi can be redeemed through an allowance for love and human connection ... probably because Disney wants to keep selling Jedi-branded lunchboxes or something.
You (yes, you) shouldfollow JM on Twitter! And check out the podcastRewatchability
Top Image: Lucasfilm