Welcome to Defending the Indefensible Week, where we attempt to vindicate some of pop culture's crappiest moments through the magic of harebrained internet theories. Such as ...
The Indiana Jones franchise has its share of terrible moments, from the time Indy passed up the opportunity to kill Hitler to Temple Of Doom's suggestion that Indian food is mostly insects and severed heads. But most fans would agree that the dumbest moment in the history of Indy's adventures was the infamous "nuke the fridge" scene in Kingdom Of The Crystal Skull, in which Dr. Jones stumbles into a nuclear test site ...
Lucasfilm
... hops inside a refrigerator ...
Lucasfilm
... and gets blown across the desert sky like he's starring in a particularly artsy Maytag ad ...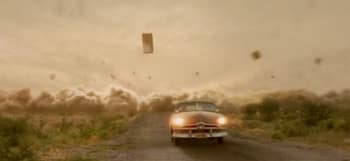 Lucasfilm
Lucasfilm
... only to roll out and walk it off like it was all just a shoddy carnival ride.
Lucasfilm
LucasfilmWhich doubles as a meta explanation of the production of this movie.
There are so many problems here. Sure, the fridge is lead-lined or whatever, but even if you accept that (you shouldn't), it doesn't account for the senior citizen bouncing around like a rag doll inside a metal coffin. Wouldn't he break his neck, at the very least? Fans of the series accepted face-melting Old Testament lasers, but they couldn't swallow Indy surviving this scene.
But what if this scene does make sense, but only because it's Indiana Jones? One redditor has a theory asserting just that. Indy is no average guy, after all. He's battled the Nazis, freed a city of enslaved children, and, uh, battled the Nazis again (it's hard to think of a third thing). But most importantly, Indiana Jones keeps having brushes with God, who in this universe is a verifiably real guy. Indy survives the Ark of the Covenant's actual magic attack. He discovers the literal Holy Grail, and then drinks from it.
Lucasfilm"This is just water, right? I noticed a lack of bathrooms here ..."