Green is the color of springtime. It's renewal, growth, enjoying new life by frolicking among the daffodils. Then, when they're all "hashtag relationship goals," her hair is a summer red. This is the passionate height of their love affair.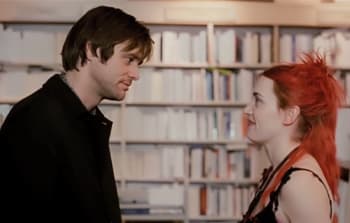 In the autumn of their relationship, the red becomes orange, and Clementine is putting less care into maintaining it. This is what we writers call ... uh ... a hyperbole?
Finally, with their relationship dead and erased, Clementine's hair is the cold blue of winter. But there's also a hint of green, foreshadowing how they're going to reconnect and give it another go (even though they're frankly terrible for each other).