During the production of Star Wars: The Force Unleashed, the development team wanted to give their protagonist, an apprentice of Darth Vader, a "Darth" moniker of their very own. They asked Lucas if that was cool, and by total surprise, he said "yes" and gave them three possible options: "Darth Icky," "Darth Insanius," or "Darth Suck It There's No Third Option."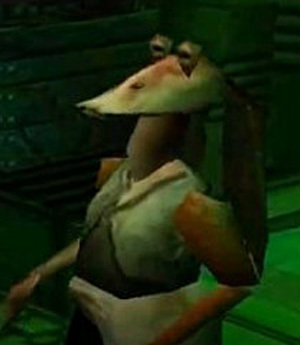 LucasArts"I've taken the liberty of designing his character model, too."
The developers probably reacted with laughter ... later tinged with existential despair when it turned out that they were seriously the only options he was giving them. With a Force-powered hard pass, the team scrapped the storyline until the sequel, by which time Lucas had forgotten all about it.
LucasArtsOne of the developers waved a hand in his face and said, "These are not the names you want."
And then Lucas did the exact same thing during the development of the sadly never-released Star Wars: 1313. The original vision of the game, which the developers had spent years and millions of dollars building, starred a brand-new bounty hunter character. Right before they were about to unveil the game for the first time, however, Lucas decided that 1313 had to star Boba Fett, i.e. the most useless "badass" in the galaxy.
LucasfilmHis special move.
Everything had to be completely redesigned midway through the development cycle in order to accommodate this insane request. All in the midst of a hiring freeze. By the time Disney acquired Star Wars, shuttered LucasArts, and cancelled 1313, it was less like a murder and more of a mercy kill.