There are a couple of horrifying implications to this. One, it suggests that no one wants or chooses the life of Santa. Delivering toys to bratty kids and spending an eternity in the Arctic is so shitty that apparently elves have to trick people into taking the job. Two, you may assume that the Santa who died at the beginning of the movie was some ancient being, but who's to say that was the original Santa? For all we know, the Santa who died in this movie was some teenager who accidentally ran Santa over with his car the previous Christmas.
We also get a scene wherein an immortal elf who looks like a small child hilariously thinks Tim Allen is hitting on her, and- wait, who the fuck thought that was a good idea?
Walt Disney Studios
Walt Disney Studios
Walt Disney Studios"Hey, we cut the 'sit on Santa's lap' joke. What more do you want?"
In Disney's only dalliance with body horror, Scott's body soon transmogrifies into that of an elderly heavyset bearded guy, no matter what he does. Which raises so many questions. If a child puts on the suit, do they also grow a beard? If it's a woman, does Christmas magic reassign her gender without her consent? What if a serial killer offs Santa and puts on the suit? This elven system of doing things is pretty much the worst.
As hard as it is to believe, the second movie is even stranger. In The Santa Clause 2, Santa discovers that there's a second hidden clause, which states that he has to get married to "a woman of his choosing."
Walt Disney Studios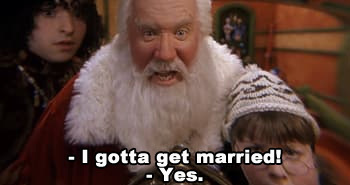 Walt Disney StudiosHold on ... What happened to the original Mrs. Claus?