Vietnam stole a page from The Dark Knight's playbook and straight up abducted Thanh from the middle of Berlin. No one knows exactly how they did it; all we know for sure is that it involved Vietnamese Intelligence crossing the border from the Czech Republic, a white van, and balls that wouldn't fit in the Reichstag. It might have also involved a mole in Germany's Federal Office for Migration and Refugees.
For Germany, the whole thing was a little too reminiscent of the Soviet abductions of German citizens before the fall of the Berlin Wall. So they expelled Vietnamese diplomats and extradited a possible suspect from the Czech Republic, a dude only known as N.H. Long. Sources have yet to confirm whether he's a Metal Gear Solid character, but search your heart, and you'll find the truth.
Meanwhile, Thanh went on live TV and said that he had a "change of heart," although his asylum lawyer argues that he was under duress. No one can say for sure, but looking at his eyes here ...
Trinh Xuan Thanh
... and here ...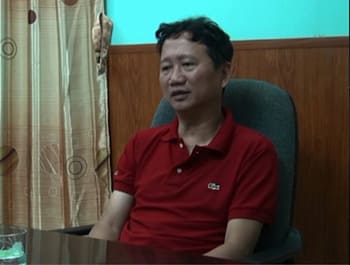 VTVThat's the look of a guy with a good idea of what's going to happen next.