In fact, a lot of this comic hints that in the Disney Universe, tails are pretty straightforward penis substitutes. At one point, Mickey's tail goes "limp" and he worries that he "can't do anything with it," like it's his third arm or something. Burdened by this caudal dysfunction, Mickey decides to go to Nipp's house to settle things and maybe regain a bit of his manhood through violence. But when he gets there, he doesn't find the house's occupant, but a "tough gentleman" of undetermined species.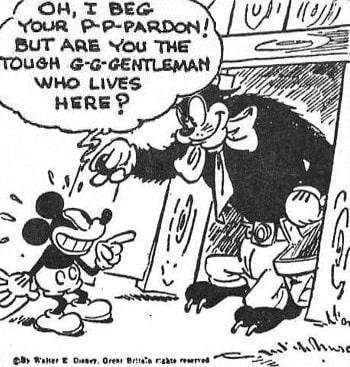 Walt Disney
But here's the gag: This tough gentleman is in fact a very sweet and soft fellow wearing a floppy hat, long eyelashes, and a big bow around his neck. He's also an obvious gay stereotype, complete with a limp wrist and lisp.
Walt Disney
No longer cowering at the sight of a traditional tough guy, Mickey decides to teach this sweet baker's boy a lesson and kicks his ass.
Walt DisneyH-O-M, O-P-H, I-B-I-A