Doctor Strange is clever and unique in a lot of ways, but the actual plot feels like a placeholder template that came free with the screenwriting software. The villains are paving the way for an invasion from an otherworldly evil that manifests itself as a glowing pillar of light. The hero is essentially Tony Stark if he'd gone with a different major in college. This article, however, is about the main human villain, the evil sorcerer Kaecilius, played by Mads Mikkelsen in eye makeup that makes him look like he's due for a huge settlement from a sunglasses manufacturer.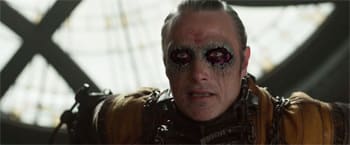 Marvel Studios
Conjure up some Visine, dude.
Kaecilius is as dumb as a suitcase full of farts. He has less strategic foresight than a plankton. His is an incredibly simple task, to the point where failing to do it actually requires him to take several much more difficult steps than he needs to -- which he does, for no goddamned reason. It's the supervillain equivalent of trying to burn down a house and accidentally renovating it instead.
It's for good reason that Kaecilius is the subject of Part 4 of our weeklong series on misguided villains, which we're calling "Wait, What Was Their Plan Again?"
Things Go Off The Rails In Literally The First Scene
Doctor Strange opens in a temple in Nepal and what appears to be a library full of ancient, magical books, being tended to by a single librarian. Kaecilius and a dozen or so of his closest friends stride in like they own the place (it's not explained how they got in, but we will soon see them using magical portals to travel, so apparently it was that). Using a combination of magic ropes and hatchets, they chop the head off of the librarian and drop it into a bucket which it seems they brought for that exact purpose. Kaecilius then grabs a specific book from the rack, flips to a specific spot, rips out a few pages, and drops the book on the floor.
Marvel Studios
Marvel Studios
A murderer and a litterer.
And there it is. Mere minutes in, Kaecilius has already fucked up his mission in two ridiculous ways that will dictate the rest of the plot. At this point the Ancient One, played by an alarmingly bald Tilda Swinton, shows up to instigate a fabulous M.C. Escher chase scene so elaborate and creative that it likely distracted you from the fact that the film's villain probably shits crayons.
Wait, What Was Their Plan Again?
The stolen pages, we find out later, contained a ritual to awaken an ancient evil named Dormammu. The rest of the movie revolves around hunting Kaecilius down and thwarting his plan to use Dormammu's power to create an immortal (albeit hellish) existence for all of humanity. Seems straightforward, as villain schemes go.
Doctor Strange, meanwhile, begins his Hero's Journey at the temple, and in an oddly clumsy scene, he happens to be strolling around the Masters Only section of the library, where he grabs a totally random book off the rack. He then casually flips it open to see that pages are missing. That's right: Of all of the hundreds of books in the library, he happens to grab the exact one that's key to the entire plot. They couldn't have had it off in its own special case or something, so there'd be a reason for it to draw his attention? Whatever, it doesn't matter.
Strange is informed by the grumpy librarian that the book is a series of spells that can manipulate time. The librarian then tells Strange that he'll murder anyone -- including Strange -- who attempts to steal one of the sacred books on his watch. But that is no match for the plucky doctor! Strange is intrigued, and learns just enough magic to open mini-portals to steal three forbidden books right behind the librarian's back! It's an adorable bit of magical slapstick ...
Marvel Studios