Also, the area hasn't been so stable recently. A large part of why the site was so little-known is that prior to 2001, foreigners weren't even allowed in the vicinity. It may have been for our own good. Tourists risk going toe-to-toe with local outlaws, who have killed at least five of them and injured or kidnapped many others. On the plus side, the armed guards you'll have to hire look hilariously photoshopped on this terrain: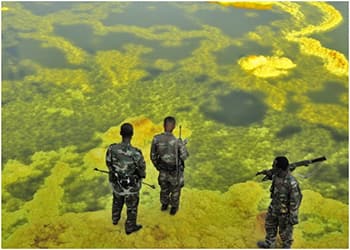 Michel Hanse/National Geographic Traveler Photo Contest
Great camo, guys. It's like you're not even there.