He's not alone. In recent years, several courts have decided to nitpick at a perfectly sound and understandable piece of legislation in order to turn its meaning on its head, mostly for the purpose of screwing the already-underprivileged. You see, U.S. Code 525 is divided into two sections, one pertaining to the public sector, and the other to the private sector. While the language under the public sector section specifically states that a governmental body may not deny employment to a previously bankrupt individual, the section pertaining to the private sector does not specifically prohibit hiring someone like that ... only that they can't discriminate them once they're already employed. So courts have interpreted it in the exact way you suspect: For private employers, denying someone unemployment on the grounds of bankruptcy is A-okay, even though the clause also states that they may not "discriminate against the employment" of such individuals.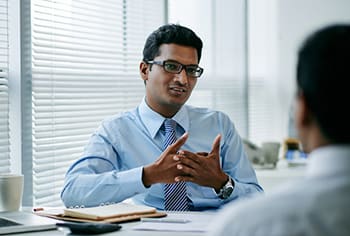 DragonImages/iStock
"Sorry, your skills and experience are top-notch, but we're really looking for someone willing to constantly take on debt."
Oh, and chances are the bankruptcy wouldn't even have helped, because companies are just as unlikely to hire you if you have bad credit. Good luck earning money, person who needs money!