Daredevil Can Punch Women: 5 Super-Ignored Superhero Crimes
Superheroes get away with a lot. They trespass, fight in public, and flaunt their bulges in the faces of good citizens, all in the name of justice. But there is a line even superheroes cannot cross -- at least not without getting thrown in some sort of superjail for a full story-arc. Yet they do cross it, sometimes so slyly we don't even notice they've done it...
Peter Parker Casually Steals Pivotal Evidence In A Major Crime
The romantic subplot of the first Spider-Man 2 features Peter Parker wooing Mary Jane Watson, while also trying to juggle literally all of New York City's crime. One night, Peter shucks his great responsibility to see Watson perform in a play, but while on his way there, his lady-slaying scooter gets run down in a high-speed car chase.

"Honeys love that economical transportation."

Parker chases down the car as Spider-Man, while the inexplicably inept police take turns crashing their vehicles and flipping into bystanders. After preventing a few pedestrian deaths, Parker finally subdues the two gun-toting criminals. Unfortunately, he's now running late. To save time, he suspends the criminals from a streetlight and drives their car to the theater -- the same car that is serious, important evidence in an ongoing crime.
When he arrives and parks in a tow-away zone, a nearby officer threatens to seize the suspicious-looking vehicle. Parker wasn't planning to keep it, so he shrugs it off. Peter just gave that officer some extra motivation to run the car's plate number and, were that to happen, the cop would discover that it was literally just involved in a high-speed chase with shots fired in downtown Manhattan, including the destruction of multiple police cars.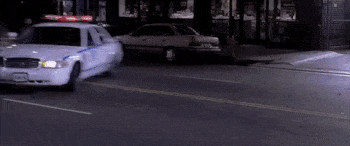 Even the Blues Brothers think they need to tone it down.

Then Peter would have two options: lie about driving the car during the chase and plead guilt to a litany of crimes, or admit to being Spider-Man and plead guilty of a litany of crimes. Saving five minutes risked Peter's anonymity and the safety of his loved ones, plus hugely inconvenienced the very police force he's trying to help. But then again, it was a pretty sweet car. Who are we to judge?
Clark Kent Publicly Annihilates A Semi-Truck, Risking Everything To Show A Dude Up
In Man Of Steel, Clark Kent works at a truck stop, pre-journalism career. There, he stops an asshole trucker from sexually harassing a waitress. Then this happens:

He then tries to give him a wedgie, but this version doesn't wear underwear on the suit or out of it.

Kent walks away because he's the better man ... or at least the more passive-aggressive one.

Heroically destroying valuable utilities and people's livelihoods in a single bound!

Instead of killing the guy, he super-destroys the guy's truck in a crowded, well-lit parking lot that probably has security cameras. Clark outs himself as a freaky alien god just to pettily destroy the property of some guy who was a total dick that one time. Now, just like with Spider-Man, we would almost certainly have done the same thing in his position -- but we're not supposed to be role models. We're barely even citizens.
Daredevil Brazenly Assaults A Passing Woman In A Public Park
In 2003's Daredevil, Matt Murdock is interested in Elektra and, after having his advances rebuffed, follows her to a park and asks for her name. She makes it clear that she finds this uncomfortable, and then this happens:

"Don't you know it's rude to turn down sex with a blind guy?"

That's a woman's worst nightmare. Some handsy fuck corners her and grabs at her, and his response to her saying "I don't like being touched" is an incredibly creepy "Why don't you tell me what you do like?" No one seems to notice or care, despite being broad daylight in the most densely populated city in America. Thankfully, Elektra is a trained ninja and fights back. A series of kicks and flips leads to the two of them balancing on seesaws, because this movie is dumb. Some kids playing basketball finally start paying attention to the ongoing episode of SVU, but cheer them on instead of looking for help, treating what certainly appears to be attempted sexual assault like a pick-up game.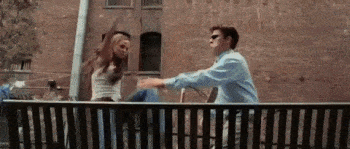 Seriously, kids: If you see something, say something.

When the fight ends, the children go back to basketball as if they didn't just watch a sexually violent ninja fight. Daredevil is incredibly lucky that he stalked the one woman in the world who considers street brawling flirtatious, and in the one place where people would rather watch and take bets instead of calling the fucking police.
Blade Assaults, Detains, And Brandishes A Gun At A Police Officer In Broad Daylight
Blade is about a half-vampire who hunts down blood suckers with kickass gadgets and an exploding samurai sword. At one point his love interest Karen survives a vampire attack and heads back to her apartment, where she's met by a police officer who works for the villain. He tries to murder Karen, but Blade fucks him up. Now, it's shady enough that he has to interrogate the officer for information in the privacy of Karen's apartment. But instead, Blade inexplicably takes his "I'm-worse-than-anything-at-Gitmo" interrogation techniques outside.

Waterboarding doesn't have shit on face-hooding.

He assaults a uniformed police officer in broad daylight while obviously armed to the teeth, to the complete uninterest of every passing New Yorker. Blade is so comfortable with committing felonies that he doesn't even bother hiding the officer's badge. When the guy refuses to talk, Blade pulls out a gigantic pistol. Karen, valuing human life, tries to stop Blade from blowing his brains all over New York's already disgusting sidewalks, and the bad guy escapes during the distraction. Blade, now inconvenienced, does this:

"Grrr, I can't believe that asshole got aw-- oh, shit, is that a Sbarro?"

Even though his continued survival relies on complete secrecy, he is the loudest, craziest man in New York. And that's a high bar.

This is a world where the evil vampires secretly control almost everything. Does Blade care? No. He even takes the time to remove his sunglasses and berate Karen for not being vampire woke while the crowd mills about him, the gun from all of five seconds ago immediately forgotten. Lucky for Blade, this is also a world where people see a man with a gun and a goddamn sword assault a police officer and don't even think to so much as tweet about it.
No Superhero Follows FAA Regulations Designed To Save Lives
Air traffic control (ATC) is brought to you by the Federal Aviation Administration, a government agency with one very important job: enforcing a host of regulations designed to prevent mid-air collisions. The FAA usually does a good job, but superheroes make safe skies impossible. Birds damage planes -- just ask Tom Hanks. Erratic humans decked out in armor would annihilate them.

Don't even get us started on humans in bird armor.

Part of ATC's job is to check in with pilots via radio. Superman doesn't fly around with a headset on, and he's too small to track on radar, so no one has any idea where the hell he is, or where he's going. If Green Lantern gets distracted by how awful his movie is, this could happen: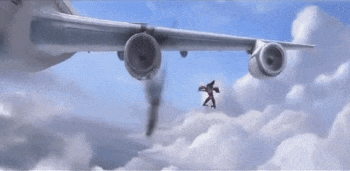 What The Incredibles didn't show was that engine failing and the plane plummeting toward the ground.

This is why all civilian pilots have to file flight plans with the FAA before take-off. That way, ATC can warn them of other planes in their path, and coordinate the whole thing. But Batman doesn't file a flight plan when he busts out the Batwing. Airports are restricted airspace for a reason. The President is a moving no-fly zone, and Wonder Woman's invisible jet could meet a Patriot missile if she flies too close to Mar-a-Lago. The FAA also sets standards for air speed. Superman can only fly 200 knots over land, so he doesn't smash windows by blasting through the sound barrier. There's even an entire list of regulations about avoiding thunderstorms. You know, the kind Thor causes just about every single time he flies.

Ryan Lichtenstein makes a weird, progressive kid's show you can watch here. Or follow him on Twitter.

For more superheroes that belong behind bars, check out 7 Movies With Horrible Mass Deaths You Never Noticed and The 7 Biggest Dick Moves in the History of Superheroes.

Subscribe to our YouTube channel, and check out 4 Reasons Spider-Man is Secretly Bad at His Job, and other videos you won't see on the site!

Follow us on Facebook, and we'll follow you everywhere.