This adorable pig marks your last chance to turn around.
You see, unless you went out of your way to get a vegan tattoo, that ink almost certainly contains the charred bones of dead animals. That's what gives it that crisp, appropriately death-metal-esque blackness. And that's not all: Animal fat is commonly used as an ink stabilizer, while gelatin made out of animal hooves serves as a binding agent. We're gonna go ahead and guess those hooves weren't volunteered by their original owners.
via Vegan Tattoos
"Yeah, animal cruelty really gets under my skin, you know?"
Some inks use resin from shellac beetles for binding, which might be less horrible in the vegan/vegetarian sense, but is still skin-crawlingly gross. Fortunately, vegan tattoo inks do exist, but according to The Atlantic, "outside veggie hotspots like New York City, Portland, and Los Angeles, they can be hard to find." We're gonna assume all the cool kids with vegan tattoos knew this and carefully vetted their ink, lest they become a living, breathing example of irony.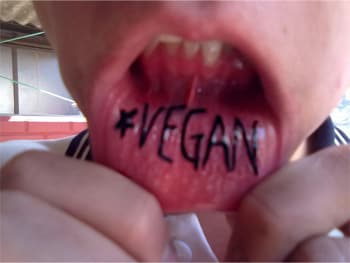 via Tattoos Hut