6 Absurd Questions Gamers Went To Great Lengths To Answer
Gamers are a curious folk. They'll explore every corner of the map just to find answers to dire questions such as: Is Master Chief as handsome as he sounds with his helmet off? Can you kill Mother Brain with Bubble Lead? Does loneliness have a smell? You'll be amazed how deep their rabbit holes can go, and we're not just being gross here. Bored gamers have discovered some very important answers to bizarre and petty questions like ...
What Are Characters Hiding Beneath Their Masks?
Anonymous, faceless characters are a mainstay in video games. They add immersion, allowing players to better relate to a tornado of murder like Ryu Hayabusa, or a sexy pressure suit of sex like Tali'Zorah. But you can't hide anything from gamers for long. For example: At the end of the original Halo, Master Chief takes off his helmet, but the camera is placed at a teasing angle that doesn't allow you to see what he looks like. Luckily, that's not a problem, because someone exploited the game's camera to discover Master Chief's true identity ...

My god, all this time he's really been ... Master Chief?
And what about those giant armored dudes from Bioshock, the Big Daddies? We never found out what they look like, even when you got to play as one.

You're the one on the right. It'd be kind of a fucked up game if you weren't.
So what does that hulking monstrosity look like inside its diving suit? A slimy, wrinkled walrus man? A swarm of shrieking plankton? A ... lens?

Hint: It's the last one! The disappointing one!
Then there's the dude from Crysis 2. He seems like a pretty generic character, DEFAULT DEATH CYBORG #3. But if you look at him from another angle he's anything but generic.

He is highly advanced warfare taffy.
And speaking of gooey abominations in PC shooters, Half-Life 2 featured a cast of masked enemies who would have been a lot scarier if they'd shown their faces.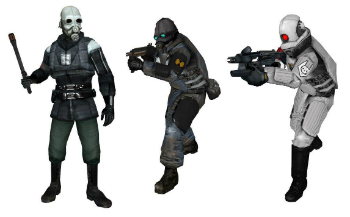 Here's what they look like when they're trying to kill you.

And here's what they look like when they go to the beach.
They're modeled after one of the artists working on the game ... whose face was also used for the main character, Gordon Freeman. Which means we were playing as one of the creators of the game and killing our albino twins the entire time? And they same games aren't art.
In The Stanley Parable, Can You Save Both The Baby And The Puppy?
The Stanley Parable is the story of the strangest workday in the life of a poor office drone. Stanley is used to doing the most boring job in the world, but one very special day he finds his computer broken and realizes he's completely alone in his normally crowded office building. He decides to investigate what the hell is happening, all the while his actions are being mocked and questioned by an invisible narrator.
It's a strange game, and it gets even stranger when Stanley enters an Aperture Science-esque room and is forced to watch a cardboard cutout of a baby crawling toward a wall of flames. The baby is toast unless Stanley presses a button, which sends the baby back to his starting position. But the baby crawls back to the fire, doomed to die moments after you stop pressing the button.

The point is, Stanley's building has a terrible daycare center.
If Stanley manages to stay true to his principle -- not letting babies die in fire -- the game ups the ante by adding a cute puppy, who will also be killed if you don't press a different button. Eventually, most players just give up, content to let two adorable things die in exchange for a heavy-handed metaphor about office work.
But what if you really did stay there, pushing buttons until the end of time?
One guy did it. He programmed a macro that had poor Stanley pressing those buttons automatically. And after four hours, something marvelous and mysterious happens. A magical monolith appears and rips open your understanding of the universe, starting with an explanation of what happens after you die.

Jesus. OK, rectangle spirit.

Dude, I just hit a button for four hours. Are you sure I deserve this level of enlightenment?

You ... you had us at BLXWXN.
What Happens When You Portal A Portal In ... Portal?
In Portal, quite understandably, the first thing curious players do is use quantum physics to check out their own ass. The second thing they do is try to put one portal on top of the other. If you know anything about portals, you obviously know this would create the kind of paradox that rips apart the universe, so players are not allowed to do it.
But ripping apart the universe is the endgame of most Internet users, so a Youtuber named CrowbCat used a custom map to squish himself between two portals. It didn't quite rip apart reality, but it came close:

It's buttholes! It's all buttholes. Oh god, they should have sent a butthole poet!
Strangely, only the top of your head remains immune to the effects of cosmic deconstruction.

Scream in your hellscape of joy and pain that happens both instantly and gradually, both never and forever!

Oooor just look bemused at your own time-fractured ass. Whatever.

Tits to infinity, and beyond!
If you're currently high right now, or simply want to watch the closest a computer can get to being high, the full video is here:
Just How Goddamn Strong Is Chris Redfield?
In Resident Evil 5, Chris Redfield takes time away from heroically shooting terminally ill, unarmed Africans to fight his boss in a volcano, as is the American Dream. The whole finale is ludicrous, even by Resident Evil standards. There are plane crashes, dashes across crumbling platforms, boulder punching, men fusing with metal, lava swimming, and dual rocket launchers to the face while confused gamers wonder, "Wasn't this a zombie game back in the day?"
Let's narrow it all down to one specific moment of insanity: The boulder punching. Chris Redfield, a human man, is shoving an apartment-sized boulder out of his way and pauses in the middle of it to throw some right hooks and work the body. The body of a boulder. There really is nothing quite like it in the history of nonsense.

"See Leon? I told you you were a pussy for running from them."
For 20 seconds Chris boxes that rock. And after that lunacy, it almost makes sense when your sexy, brainwashed colleague in a cat suit tosses you two rocket launchers so you can kill your manager while he's waist-deep in lava. Remember, again, Chris is just a regular human in this game. While most of the cast is infected with a baffling amount of super viruses, Chris is just a guy who enjoys the gym. But is it possible to enjoy the gym that much? How strong would a person need to be to punch this thing out of the way?

How stupid you'd have to be is a subject for another day.
If you're looking to move a boulder with punches you're in luck, someone on Reddit did the math. They assumed the boulder was a common volcanic rock, basalt, then looked up Chris's height, 185cm, and used that to estimate its size. They reasoned the boulder weighed about 150 tons. That's 23 fat African elephants squeezed together into one giant ball. It's like shoving a blue whale. And Chris punched it in the stomach. If you want to keep it in nerd, that means Chris is 15 times stronger than Spider-Man and twice as strong as The Thing. And in human terms, he's about 27 times stronger than the strongest man who has ever lived.
Chris is so strong that if Resident Evil truly went nuts and he found himself fighting a zombie elephant he could drop his gun and suplex it. If he fought a zombie blue whale, he could knock it right the fuck out with a solid uppercut. But surely even Resident Evil would never get that ridiculous...

Wait, both those things actually happened? Man, this franchise lost its goddamn mind.
Can You Go So Fast In Big Rigs That You Transcend God?
Big Rigs: Over The Road Racing is one of the worst games ever made. Some argue that since it's mostly shapes flying around doing incorrect things, it shouldn't even be considered a "game." If you're not familiar, here's a three-minute video highlighting its features. It's meant to be a truck racing game, except there is no AI for the other trucks, which means there's no one to race against. If you can keep Big Rigs from crashing long enough to play it, you'll find that you can drive straight through buildings, and gravity and physics have little regard for you and what a truck should be doing. You can accelerate straight up mountains, and might even fly for a while -- before the game realizes you're a truck again, and it crashes. It's the greatest argument both for and against games as art.
Normally, reverse is the slowest way for a truck to travel. Not in Big Rigs. As long as you keep the pedal down, your reversing truck will continue to accelerate. So naturally, players wanted to know, "How fast can an impossibly fast truck go, backward?"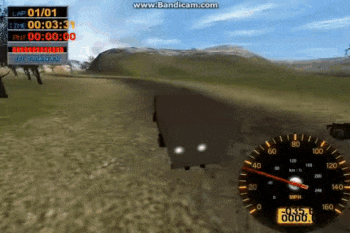 No matter how stupid the mountain, if it is there, they will climb it.
One player, Pokemonfan4000, set out on this grand experiment. He held down reverse, cranked the wheel, and drove that shitty truck right into the history books. Soon he reached 700 mph -- faster than sound. The game itself couldn't handle the speed and the camera lagged behind, creating a herky-jerky time-lapse effect.

Or Optimus Prime got really into breakdancing.
He kept going, bravely, into the unknown. At 1,000 mph, the truck starts weirdly teleporting around the map, as if the game's own life was flashing before its eyes.

"AARGH! MY LIFE WAS SO UGLY AND POORLY RENDERED!!!"
Just like he did 3,999 times while trying to find the perfect username, Pokemonfan4000 kept going. His truck reached 5,000 mph and was now merely a flicker of truck images on a field of gray nothing. What was once a meaningless game about trucks was now truly losing all meaning.

See how easily we have undone what you've done, GOD!?
At half a million mph, the game became a flat gray landscape with even the truck itself gone. Though it did make a brief cameo, as it raced to a million mph:

Kudos to the navigation system for continuing to keep time after it ceases to have relevance.
Shortly after the million mph mark, the truck disappeared for good. Our puny mortal eyes are either not capable of perceiving it, or it went so far back in time that it never existed at all.

Gray: The Final Frontier
Though the truck no longer exists in our plane, its speedometer does. So we know when it hits a billion mph -- a speed significantly faster than light -- which means its mass should now be infinite. Frankly, these truck ramifications are staggering.

Voiceover: "A new lap record!"
And it keeps going -- a trillion, a quintillion, faster than Star Trek's ships, faster than a Star Wars Hyperdrive. This fucking truck, in reverse, hit one undecillion mph. Oh, you've no idea what an undecillion is? Neither did we. It's 36 zeroes. 1,000,000,000,000,000,000,000,000,000,000,000,000 mph. There is simply nothing that fast that has ever existed. Except for in a badly made game about trucks from 2003. And even still, our brave explorer kept driving. Nothing of note happened until the truck's speed hit the unprecedented 12.3 undecillion mph. And then:

What!? "YOU WIN!" WHAT!?
It turns out this was not a secret victory screen reserved for the driver courageous enough to take a truck to 12,300,000,000,000,000,000,000,000,000,000,000,000 mph. He was actually going so fast that he was simultaneously at every location at once, including all the race checkpoints. So Pokemonfan4000 did something no one ever expected. He "won." And speaking of Pokemon ...
OK, Seriously: Which Is The Best Starting Pokemon?
The first choice you make in Pokemon is selecting your starter: Bulbasaur, Charmander, or Squirtle. It was an important decision that defined how you progressed in the game and reflected on your very character in life. Your every relationship with friends and lovers was, and always will be, ruled by the choice you made in this 1998 Game Boy game. But it was arbitrary, right? There was no way to be certain which was the correct Pokemon to pick, right?

R-right?
One obsessive Pokemon fan, Kyle Hill -- though we'll call him Pokemonfan0001 -- decided to settle it once and for all: Who is the best starter Pokemon? When he finally finished his research, he published it for his sad group of followers in ... wait, Scientific American magazine? OK, this is apparently some serious shit.
The different starters have different strengths and weaknesses. Charmander is a fire type, so he burns plants, but he hates water and rocks. Squirtle douses fire and erodes rocks, but hates electricity. And Bulbasaur beats rocks and water, but is just a mess at every other aspect of life. So every starter will fare differently against the game's 12 bosses (the eight gym leaders and the Elite Four). Every gym leader specializes in a different type, so Brock's rock types are good news for everyone who isn't Charmander, but the reverse is true for Erika's plants. Then there are the Ghost and Dragon trainers, ignoring how their only choices were Gengar and Dragonite, and ... dear god, is this what it's like to go insane?
This chart suggests yes:

Not included: Charmander being curbstomped for five hours in Mt. Moon.
On the chart, green means your starter is good against that boss's Pokemon. If it's red, that means you'll probably be destroyed. Now that you've carefully studied this vital and important research, you'll see Squirtle and Bulbasaur have three gyms where they have an advantage, and Charmander has only one. Furthermore, Squirtle has the advantage against three boss Pokemon that none of the other starters do, while Bulbasaur has two. So ... Squirtle is the best? Oh wait, we're not taking defense into account.

Don't worry, we'll explain this.
As you can see, Squirtle has two gyms where he'll encounter a weakness -- the electric and grass gyms -- and three where he actively resists them -- water, fire, and ice. Whereas Charmander is weak to three and resists one, and Bulbasaur is a three/three split. Why, according to these findings, all this information has replaced everything you once knew about the human orgasm. What is it? How does one get it?! Is it weak against grass?
Back to the scientific findings. If you're attacking, Squirtle has a slight advantage over Bulbasaur, who has an advantage over Charmander. And from a defense standpoint, Squirtle has the fewest weaknesses. So ... hold on a second, we think we did it. We think we did it!
Objectively, Squirtle is the best starter Pokemon!

"Squirt. Squirt. Tuuhhhhhhl."
This just doesn't feel like a victory.
Ed Stevens doesn't care what science says -- Charmander is still the best, and he will fight anyone who says otherwise. Tiago Svn will answer all of your silly gaming questions on Twitter.
For more questions you had no idea you needed answered, check out 4 Absurdly Specific Pop Culture Questions Answered By Fans and 5 Pop Culture Questions You Won't Believe Have Been Answered.
Subscribe to our YouTube channel, and check out 4 Glitches That Turn Video Games Into Horror Movies, and other videos you won't see on the site!
Follow us on Facebook, and we'll follow you everywhere.
Scroll down for the next article