Vader and Trios then wind up caught in a trap to kill them with lava, as if one of those people wasn't powered by lava. This only makes Vader angrier -- something that he makes all too clear when he lightsabers a hole in the wall, knocks out Trios, and floats down a lava river carrying her unconscious body.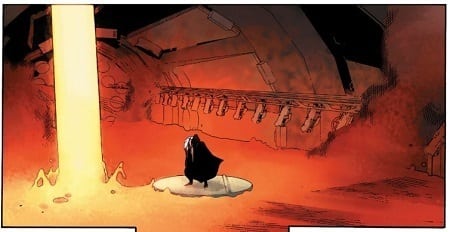 Marvel Comics
"Oh shit, this reminds me I didn't call Obi's ghost for his birthday ..."
When Trios reawakens, she discovers that Vader had her entire family wiped out (they're the ones who set the trap), and also, surprise! He has a gift for her, the new ruler:
Marvel Comics
Pictured: Princess Leia's kryptonite.
It's a piece of Alderaan, the planet we all saw get death-lasered in the first Star Wars movie. Yes, he was carrying that with him the entire time. Most villains would have settled for a curt "Alderaan, just sayin'," but not Vader. He's the one who flies into the debris field of a destroyed planet, scoops himself up some souvenirs, and dishes them out like the geological equivalent of that horse's head from The Godfather.