In the process of destroying the ship, Luke's Padawan sacrifices herself. It's a hard day for Luke. He's got this new girlfriend who doesn't have a body and his new apprentice just got turned into a corpse. A ... hold on, you don't think Luke would ask his ghost girlfriend to ...? No. NO. Oh, come on, Luke. NO.
He does it. He lets his ghost girlfriend drive his apprentice's dead body. And she is good to go. She throws her undead parts at Luke repeatedly. She even surprises him by dressing his apprentice's corpse up in lingerie on their second anniversary, but Luke never goes all the way. However, the author does make it clear the two were very physical. They just always stopped short of fully switching off the targeting computer.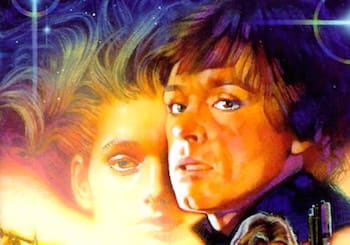 LucasfilmShown: Three Jedi in a healthy monogamous relationship.
What is not made clear is whether Luke avoided sex with her because his Jedi code wouldn't allow penetration before marriage or because she was two different dead girls. Think back to one of your favorite Christmas mornings ... when you were eagerly ripping open an Ewok Village Playset or a LEGO Jedi Starfighter. Could you have ever imagined you'd one day grow up to learn all the ways Luke Skywalker likes to dry hump a cadaver?