5 Shockingly Insane Scenes From Star Wars' Expanded Universe
Star Wars is a sprawling, unkillable cultural phenomenon that is very likely to outlive all of us. This puts enormous pressure on Disney executives to churn out an endless series of space wizard stories. What is that going to look like after three more movies? Five? Seven hundred? It's hard to say, but we can look to history for help.
The Star Wars Expanded Universe of novels, video games, and comics has been dumping space garbage into the galaxy for decades. And even though the movies declared that none of that crap counts anymore, we can examine it to see what happens when too many people are making too much Star Wars. Here are some of the lesser offerings from the Expanded Universe:
Luke Skywalker Romances Two Dead Girls At The Same Time
From: The Novels
A few years after the battle of Endor, Luke and his newly minted Padawan, Cray Mingla, are drawn by the Force to an asteroid field above the forest planet Pzob. It's in the K749 system, kind of near Tatooine, populated mainly with Gamorreans, and we sincerely hope this sentence helps to justify the work that went into the planet's exhaustively complete Wookieepedia entry. While there, Luke and Cray stumble on the remains of the Emperor's capital ship, the Eye Of Palpatine.
Upon entering the ship, they find its AI is planning to reboot its systems and blow up the planet Han and Leia are currently galavanting across. Oh, and they find a ghost. The ship is being haunted by a Jedi named Callista who helps them fight the ship's malignant AI. Along the way, Callista and Luke fall in love.
In the process of destroying the ship, Luke's Padawan sacrifices herself. It's a hard day for Luke. He's got this new girlfriend who doesn't have a body and his new apprentice just got turned into a corpse. A ... hold on, you don't think Luke would ask his ghost girlfriend to ...? No. NO. Oh, come on, Luke. NO.
He does it. He lets his ghost girlfriend drive his apprentice's dead body. And she is good to go. She throws her undead parts at Luke repeatedly. She even surprises him by dressing his apprentice's corpse up in lingerie on their second anniversary, but Luke never goes all the way. However, the author does make it clear the two were very physical. They just always stopped short of fully switching off the targeting computer.
What is not made clear is whether Luke avoided sex with her because his Jedi code wouldn't allow penetration before marriage or because she was two different dead girls. Think back to one of your favorite Christmas mornings ... when you were eagerly ripping open an Ewok Village Playset or a LEGO Jedi Starfighter. Could you have ever imagined you'd one day grow up to learn all the ways Luke Skywalker likes to dry hump a cadaver?
Darth Vader Ruins The Rebels' Credit Scores!
From: The Comics
In the original trilogy, George Lucas did an excellent job of establishing Darth Vader as the ultimate villain. He was evil and powerful, and he always sounded like he'd just eaten a walkie-talkie. He choked his own men and tortured his own daughter to get what he wanted, which was almost always more people to choke and torture. However, it appears that after the initial trilogy, Vader's sinister schemes started to get ... a little less terrifying.
In the 48th issue of Marvel's Star Wars comic, Darth Vader decided to go after the Rebellion in a way outside his typical modus operandi. It started when Leia was looking to buy some starfighters. So she brought Viscount Tardi to the planet Aargau to get an X-wing loan, since he had full knowledge of the complex ceremonial nature of their banking procedures. But don't take our word for it that he had full knowledge of the complex ceremonial nature of their banking procedures!
So if you were thinking the complex ceremonial nature of Aargau's banking procedures would jam them up, think again. However, before they can secure the loan, Darth Vader and three assassins arrive on the planet posing as diplomats. This seems a good time to remind everyone how spoiled nerd children are today with their comics that make sense.
Vader's disguise lasts about three seconds, since his "porter" is a 1,200-pound fish monster, his "secretary" is Dracula, and his "valet" is an elderly cross-dresser with testicles on his head. Also, Princess Leia instantly recognizes them as famous assassins. However, something about the complex ceremonial nature of their banking procedures lets them through anyway.
This may sound unlikely, but the story gets even stupider from there. Since they weren't allowed to bring any weapons, Vader's men spend the entire comic bumbling their assassination attempts before Vader finally pulls out a lightsaber and kills Viscount Tardi himself.
You might be saying, "Lightsaber!? I thought weapons were outlawed on Aargau!" You're right. But he had it stashed in his "diplomatic pouch," which Customs wasn't allowed to search. Treachery! Never underestimate the power of a Sith Lord's bureaucratic loopholes! Luckily, Princess Leia hid a blaster in her diplomatic pouch. Double treachery! And when she pulled it out, the dark lord of the Sith did not hesitate to call her a "little hypocrite!"
Here's where the story takes a real twist: Viscount Tardi was a droid the whole time. Knowing that the droid's identity would be discovered before the loan could be secured, and having used the Crown Jewels of Alderaan as collateral, Leia tricked Darth Vader into murdering the droid so the loan could still go through without the loan officers realizing the minister was a fake. Deep breath! Do you know what that means!? It means in space, if your co-signer gets murdered, you no longer need one! Wait, what?
In another twist, it turns out Darth Vader didn't care about any of this. He was just planning on stealing her collateral jewels and the assassination stuff was a distraction. He had bribed the Viscount's doctor to get information, and now ... you know what? It doesn't matter at this point. This is Darth Goddamn Vader, and he spent 20 pages running around playing make-believe so he could take the crown jewels of a planet he already exploded from a group of people he could kill at any time with his mind. And in the end, Leia just lets Vader get away with everything, including the jewels. Their banking procedures are certainly complicated on Aargau, but they seem similar to the ones here on Earth -- at the end of any financial treachery, the money always leaves with the most evil person.
Incredibly, this wasn't the only time Vader screwed over the finances of the Rebels. In fact, he kept screwing their credit rating even after his death. In the terrifyingly named comic "Jawas Of Doom," Han flies with Leia to Mos Eisley to take money out of his account. When he gets there, a clerk tells him his account has been frozen because its owner was frozen ... in carbonite by Darth Vader.
Think about that -- it means some writer was given the opportunity to create stories in the most beloved universe in the history of fiction and he went with "Han waits in line at bank; it's annoying."
Space Bestiality Causes Skin Rashes
From: The Novels
Wedge Antilles, who any nerd knows is the guy who blew up TWO Death Stars, said this about his fellow X-wing pilot: "Corran Horn was not a man who gave up, no matter what the odds."
Corran's dogged determination was evident throughout his life, from his space dogfights against overwhelming odds to banging alien ladies with overwhelming body hair. Speaking more to the latter, in one Expanded Universe novel Corran met a Selonian named Chertyl Ruluwoor. She was covered in shimmering fur and had a lithe body that Corran called "definitely humanoid" but that an otter might call "Mom." Does that not sound sexy? Wait until you see what Selonians look like:
Experts on otter vaginas might tell you that a boneless human penis could never satisfy a Selonian, but their passions raged like the screams of a billion dying Alderaanians. But despite their chemistry, Corran and Chertyl ran into a bit of a problem. It turns out they were savagely allergic to each other.
Corran's sweat, mirroring the resolve of its master, was so acidic that it broke through the waxy surface of Chertyl's space otter fur and irritated her skin. Likewise, Corran found that while all that fur felt nice against his BB-8s, it led to a sunburn-like rash across his entire body. Could any love survive such a torment? Could any reader believe that in a universe of rad laser battles, they were here watching an X-wing pilot rub ointment on his dick rash?
The two could never get past how they each secreted nothing but skin irritants from their pores and/or fur. And Corran had no desire to move to her otter planet and breed what would almost certainly be monster babies in a constant state of howling itchiness. So like every pair of star-crossed lovers who found their genitals caused mutual physical harm, they broke up. But Star Wars fans, it wasn't the last time a hotshot pilot would have sexy adventures with a human-sized otter.
Princess Leia's Anti-Puberty Stage Show
From: The Comics
The Empire Strikes Back ended with Han Solo being frozen in carbonite, and Return of the Jedi began with the galaxy's most elaborately dumb rescue operation. But between those two events, Luke and Leia continued to have less important adventures. And this one may be the least important of all.
This sequence of words is going to sound ridiculous, but here goes: Luke Skywalker and Princess Leia had to infiltrate a nightclub, so they got a telepathic rabbit creature named Plif to pose as an ambassador.
While scrounging around for information on a new Imperial superweapon, Luke overhears plans for an assassination attempt on one of the governors at the summit. But in true Luke Prudewalker fashion, he spends most of his time trying not to get laid, fighting off alien trim with expert Jedi squareness.
Back in the main bar, the crowd is packed with a cute, furry race of aliens called Lahsbees, which are normally only 0.5 meters tall, according to Wookieepedia. However, when they hit puberty, they suddenly transform into gigantic, wild monsters known as Huhks, because when you're a professional writer creating an alien race exactly like the Incredible Hulk, the best name for them is "Hulk," only with a typo.
So this is a planet where a race of aliens spontaneously turn into mindless rage monsters and the stupid things are allowed into crowded bars. Fine. What we need to worry about is how our heroes are in an enclosed space with too few fire exits and too many biological time bombs. Oh, and did we mention Lahsbees hit puberty faster when they get angry and the star performer just canceled her show? It's going to be a bloodbath!
Princess Leia knows she has to do something, so she hatches a desperate two-part plan.
That's right, Leia takes off her clothes, gets on the stage, and starts singing to prevent the world's laziest writer's idea of an alien from killing everyone out of crankiness. And for a minute, it works! The adorable Lahsbees hum along with her sweet song. All except one of them, who begins to choke and contort. Luke Skywalker's heightened warrior instincts are the fourth to sense something's wrong, and after three other patrons announce what's happening, Luke screams the words you never want to hear about a puberty space monster: "I THINK HE WAS OVERSTIMULATED!"
Let's retrace our steps to see where this plan may have gone off the rails. The Rebels were trying to prevent the aliens from hitting puberty, so they had a sexy, half-naked woman sing a seductive song to them? The only way that could work is if the author had no idea what puberty was. Wait a minute ... no experience with puberty, telepathic pink rabbits ... aliens that are just Ewoks and Hulks smashed together? The Star Wars Expanded Universe was written by 9-year-olds! It explains everything!
Horse Pilot Gets Put Down
From: The Novels
Hohass "Runt" Ekwesh was a member of Wedge Antilles' Wraith Squadron throughout the Expanded Universe. As if you didn't know, Runt is a Thakwaash, which is a race of sentient horse-faced men. They look like something you'd patch together if you had parts left over after making a centaur. Like most Thakwaash, Runt had split personalities. His reverse centaur people called these different "minds" and acted like several specialists inside one brain. So you get it -- he's got a stupid animal head, a mental disorder, and an X-wing -- he's the perfect Star Wars character.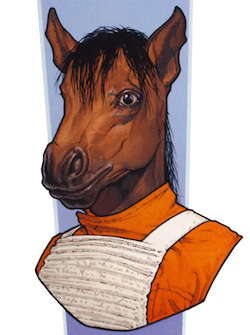 Almost 30 years after the Battle of Yavin, Runt and Wraith Squadron found themselves in a dangerous war with aliens from another galaxy called the Yuuzhan Vong. They used living organisms to mimic technology, which meant everything they had was alive -- their ships, their weapons, even their clothes.
On a deadly space mission, Runt and his co-pilot got cornered by several Vong. The Vong wield living snake monsters as weapons, which sounds unpleasant to humans but is especially terrifying when you're mostly horse. Runt never had a chance, and he ended up getting poisoned.
When our Earth horses are bitten by a snake, the traditional treatment is shooting them in the head. Spoiler alert: It's no different in space. Runt's co-pilot, who is such a monster that we won't even link to his race on Wookieepedia, could not watch his horse-headed partner suffer. So in this universe of wonder, where sorcerers block lasers with their hands and chess is played in full-color holograms, he decided the only cure for poison was putting a blaster under Runt's chin and blowing all his multiple personalities out the top of his horse skull. A fitting end for a noble steed.
Jordan Breeding is a part-time writer, a full-time lover, and an all-the-time guitarist. Check out his band at skywardband.com or on Spotify here.
One of our most popular episodes from 2016 was when we invited Karen Kilgariff and Georgia Hardstark from 'My Favorite Murder' to talk about some of the best true-crime stories out there. So successful, in fact, that we're resurrecting it (get it?) for a part two! Metal Fang, the Strangling Executioner and the murderer living in the attic just weren't enough. So Jack O'Brien, Dan O'Brien and the Cracked staff welcome Karen and Georgia back for another creepy hour of serial killers and urban legends that are bound to make you terrified to go outside or talk to a stranger or do anything.
Get your tickets here:
For more stories Disney doesn't have the balls to make, check out 4 Awesome Scenes You'll Never See In The 'Star Wars' Movies and 6 Star Wars Characters Too Idiotic For Film.
Subscribe to our YouTube channel, and check out This One Fan Theory Changes All Of Star Wars Canon Forever, and other videos you won't see on the site!
Follow us on Facebook, and let's be best friends forever.