6 Great TV Shows That Went Completely Insane For One Episode
Following a great television series can be a lot like a relationship. The two of you spend countless hours laughing and crying together. And when it finally ends, one of you needs it to be over while the other is desperate to make it work. Also, like any human in a relationship, sometimes a TV series breaks from routine to go completely and unexpectedly insane, then return to normal as if nothing happened. Let's revisit some of those now.
Star Trek: TNG Visits A Planet Of Cringe-Worthy African Stereotypes
Star Trek has a well-earned reputation as a progressive show. It took place in a utopian future in which all races came together on equal footing, and even featured TV's first interracial kiss. That's almost enough positive karma to make up for what The Next Generation did with "Code Of Honor."
"I'm Captain Jean-Luc Picard and I already don't like where this is going, uhh ... space Africans?"
"Code Of Honor" was the fourth episode in the first season of TNG, and began with the crew of the Enterprise visiting the planet Ligon II, where they needed to pick up a vaccine from the native Ligonians. So far so good, but the Ligonians were not an exotic alien race, but a backwards, cartoonish depiction of African culture so offensive that Jonathan Frakes (Commander William Riker) referred to the episode as "a racist piece of shit."
We didn't even know inanimate abstractions could even be called that.
The Ligonians are entirely black, unlike most other multicultural civilizations seen in Star Trek. They dress in a mishmash of African attire like turbans, flowing vests, and, uh, MC Hammer pants. They also attack the Enterprise crew with poison-tipped weapons and live in a society dominated by ritual fights to the death and forced marriages. Captain Jean-Luc Picard describes them as "a few centuries behind" and something that modern man has "evolved" beyond. The first draft of the script almost certainly had a scene where the away team had to escape from a giant pot of water and vegetables.
"Oh, hey. Are you guys filming a Coming To America sequel on the other lot? Ha ha what?! We're rolling?! Right now?! For Star Trek?! Ha ha ha, FUCK!"
The Ligonians are portrayed as laughably ignorant, wondering about the "soulless" projections of the holodeck (they big-big scared of magic sky sorcery!). Things take a turn for the dramatic when the Ligonian ruler kidnaps security chief Natasha Yar. He is prepared to throw away an important treaty just to force her into a marriage, which seems stupid even for a primitive culture that doesn't understand "holograms" or "shirt sleeves." The point is, the script establishes their culture then immediately disrespects it. Which is kind of offensive when their culture is every African stereotype the writers could remember from cartoons. The episode, of course, ends with the ruler tricked out of power and usurped for his silly, caricature ways.
"Jesus, didn't one of the principle cast members of this show play Kunta Kinte?!"
You should know it didn't take a generation of better-enlightened pop culture historians to look back and spot how awful all of this was; this episode was quickly denounced by many as offensive, and its director, Russ Mayberry, never directed another episode. It should be noted that the writer of the episode had initially wanted it to feature a race of reptilian-Asians who were, like, space samurais. Which probably wouldn't have been much better.
X-Files Does An Episode About Elderly Rape Ghosts
X-Files wasn't exactly known for making its viewers comfortable -- at various points it featured a kid who was addicted to eating brains and a family that committed incest with their limbless mother, and the show routinely dabbled in outright body horror. But one episode in particular was more than just unsettling. Its plot was, in two words, ghost rape.
And fashion by Scully
Sufficiently disturbed? Too bad, because it's actually three words: elderly ghost rape. This is one truth you don't want to be out there, unless you lie at the overlapping intersection of three separate sexual fetishes. The plot is, in fact, more horrifying in the details:
It begins when an employee in a nursing home claims to have been sexually assaulted by the astral projection of a tenant. Mulder and Scully soon learn it was no projection, but an actual ghost. How? Well, an orderly had been dosing the old folks with a mushroom extract so potent it let them see and interact with the angry, rapey ghosts of people who died there. Why? Well, sometimes TV shows are written by putting bad ideas into a bag and drawing five of them randomly.
The title means "glory of God" because the Latin phrase for "Unwanted Phantom Dick" has been lost to time.
While Mulder and Scully are on-site, one patient overdoses on the substance, causing everyone in the building to get attacked by the ghosts, because why not? Like any great TV writers, they thought, "we're already neck deep in nonsense, so let's triple the mushroom ghost rapes!" As a side note, they learn the orderly was only giving the patients mushrooms because it legitimately cured their Alzheimer's. This left them with an awful choice: giving up their minds to disease, or giving up their asses to ghosts. Which means the writers were already at "helpless old people being drugged and ghost-raped" when they decided the story could use more tragedy.
On a similar, yet even weirder, note ...
Little House On The Prairie Is Attacked By A Mime Rapist
Few television series define "innocence" so well as Little House On The Prairie, a wholesome show centered around a not-so-big domicile built on a flat plain. It ran during the 1970s, one hundred years after the era in which it was set. It was a world in which every small-town problem could be easily wrapped up in an hour with plenty of time for commercials to explain how to ruin meat with Manwich sloppy joe sauce. It was a simple, comforting show full of smiling fatherly advice from Michael Landon and weekly morality lessons ... and then "Sylvia" happened.
And then nightmares of viewers happened.
When most people think of the show, they probably don't associate it with the phrase "sexually assaulted by a mime." And yet that's the plot of "Sylvia." And hello to all the awful people who found this comedy article by Googling "sexually assaulted by a mime," which we should again make clear, is the fucking plot of this Little House On The Prairie episode.
"Sylvia" centers around a girl with that name who commits the terrible crime of becoming a woman. Her life instantly becomes hell. Boys at school harass her, and the whole town seems to blame her for it. Including her father. He forces her to wrap herself up tightly to hide her sinful "developments," lest she attract more unwanted attention. It's so twisted and awful it feels like a writer is trying to get revenge on puberty itself.
Unfortunately, this doesn't work at all. In this show about family bonds and country values, Sylvia is attacked and raped by an unidentified assailant wearing a mime mask. She luckily escapes and makes it home to her father, who, as you may have already guessed, does not handle it well. He leaves her to cry alone in her room after making sure she won't tell anyone of the "disgrace." So if you're following along at home with your parenting books, turn to Chapter 4: Never Take A Stranger's Side In A Story, Even If That Stranger Is A Rapist Mime. Can you see where Sylvia's father went wrong?
Hint: It's the everything part.
Unfortunately, a lot of sentences in this entry are going to have to start with "unfortunately," including this next one. Unfortunately, Sylvia learns that the mime's attack impregnated her. Fearful of her shitty father's response, and super-rightfully so, Sylvia confides her situation to her schoolyard sweetheart. Despite her being filled with the fertile sperm of a forest mime, he bravely offers to marry her anyway. Her dad still isn't happy, but it's far from the worst thing to happen to Sylvia this week.
These child actors really nailed the "I just discovered the world is filled with clown rapists" look.
Unfortunately, her "fairy tale ending" of raising her bastard half-mime baby with another teenager was not to be. Sylvia was again attacked, by the same mime, in a barn. She tried to escape up a ladder, fell, and died. That's it! It's just a series of terrible things, and the closest thing to a lesson is to never grow tits because evil is everywhere and unavoidable. See you next week, Little House On The Prairie viewers! Brought to you by Manwich Sloppy Joe Sauce, now in green diaper flavor!
Jesus Christ, Little House On The Prairie.
On ER, A Character Is Repeatedly Assaulted By Helicopters
By its nature, a show set in a hospital is going to feature a lot of death, and some of that death is going to be of the bizarre variety -- you have to keep things fresh for the viewers, after all. However, the death of Dr. Robert Romano is so cartoonish that it seems to belong in a wacky Saturday Night Live parody of the show.
And then an anvil landed on his head. Haha, no, it's way dumber than that.
Here's how it goes down: Dr. Romano is one of the show's more assholish doctors. He'd already had some karmic retribution for his dickishness when he lost his arm to a helicopter blade, which is a weird on-the-job injury for a doctor. Well, in this episode things get even weirder and a lot more helicopterier.
"Freefall" starts with Romano experiencing chopper accident flashbacks and refusing to help load a patient into a helicopter. Maybe we're supposed to think he's a monster for this, but it seems pretty understandable for a helicopter accident survivor. And speaking of helicopter accidents, later on in the episode, a chopper hits some turbulence and crashes into the hospital with all the glory '90s television CGI could muster. The crash takes out a few ancillary characters, before, you guessed it, falling directly on top of Dr. Romano. He's a man maimed by helicopter on his way from a day of being haunted by helicopter terror, and he looks up to see ...
"Are you goddamn kidding me?! A helicopter?! Well, come on! Finish it, you bastaARRGGGGH!!!"
Keep in mind this was Season 10, years after star George Clooney had left the show. This was such a ridiculous, shark-jumping moment that the series would only run for, let's see here ... another 122 episodes.
Xena: Warrior Princess Stitches Together An Episode Out Of Recycled Footage
Xena: Warrior Princess was a show that sat firmly within the fantasy genre. This meant it had, within reason, license to include pretty much whatever it wanted in any particular episode. The episode "Lifeblood" was far, far outside the realm of that reason.
It begins normally enough, with Xena and sidekick Gabrielle on their way to an Amazon village for some tribal ceremony or another. There, Gabrielle begins dancing in the moonlight and begins to have visions of the past. These visions involve a 1990s-era teenage girl being transported back to the stone age, featured an entirely different cast, and lasted for the next 30 minutes or so of the episode's runtime. It's almost like she was having a "vision" of a completely different show.
And for some reason her vision included scantily clad women.
She was. The backstory here is as sad as it is frugal. One of the producers for Xena wrote, produced, and filmed a lengthy television pilot called Amazon High, which featured, yes, modern teenage girls going back in time to Amazon times, whenever the hell that was. Despite featuring future stars like Karl Urban and Selma Blair, the pilot never aired.
They didn't even have enough money for full shirts.
But now they were making Xena while still sitting on all this footage from a show deemed "too terrible to be broadcast" by literally every television producer in the world. Or, in other words, a gold mine.

And thanks to the Internet, way more people than originally planned get to watch this.
So, these maniacs decided to take random footage from Amazon High, chop it up, and mash it into a nonsensical Xena episode as a vision/flashback. At the end, the episode cuts back to present day (that is, present day for Xena, not for us) and everyone agrees that was a very helpful vision, that they have all learned much from it, and that they would presumably learn much more if such visions returned on a weekly basis.
But, the only result was they had successfully created a garbled, incomprehensible mess that somehow ruined both a show that existed and another that didn't.
Star Trek: Voyager Find Out What Happens When You Break The Warp Barrier (You Turn Into A Lizard)
Yes, we're bookending this list with Star Trek. Let's face it, that franchise got weird every now and then.
As such, there's an old rule of thumb in show business: when you have your characters devolve into amphibians and mate with each other, you've officially run out of ideas. It's a lesser-known derivative of "jumping the shark" called "boning the salamander," and Star Trek: Voyager definitely boned the salamander with "Threshold."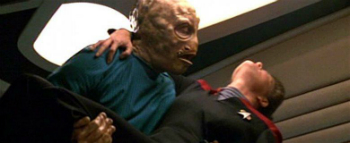 You might as well start taking your pants off now.
In an episode that inspired a fetish in at least one emotionally troubled but sexually awakened viewer, Tom Paris manages to break the Warp 10 barrier. If you're not a dork, this is the Star Trek equivalent of bowling a 301. The point is, the impossible comes at great cost, and Paris slowly starts to devolve into an amphibian-human hybrid. His mind is also compromised, and he eventually kidnaps Captain Janeway and forces her to experience Warp 10, too. Not to win a bet or anything, but to have a slimy girlfriend.
"Guys, before you finish the makeup, is this right? The script says I ... I broke salamander speed?"
The two then head down to the nearest swamp planet and fully transform into the best giant salamanders a minimal TV puppetry budget can buy. The pair somehow mate and instantly produce babies. Godless, chimera space babies who scurry into the unknown. Paris and Janeway are then returned to normal and everyone has a good laugh about the wacky time their captain was kidnapped, turned into a monster, and impregnated by a crew member while a planet's ecosystem was almost definitely destroyed by a fast-breeding invasive species born of man's hubris.
"What have we fucking done?!" - These salamanders and the show's producers
For more shows that lost their damn minds, check out 6 Classic Shows (That Went Insane For One Episode) and 6 TV Shows That Completely Lost Their Shit.
Subscribe to our YouTube channel, and check out 6 TV Shows That Stopped Their Shows To Sell You Stuff and other videos you won't see on the site!
Follow us on Facebook, and let's be best friends forever.
Scroll down for the next article