Also, ugly people are deceitful.
To make things more complicated, the Beast has to make someone fall in love with him before his 21st birthday, which is right about when we're introduced to Belle ... 10 years after the curse was cast, according to the movie. This means that the prince became the Beast when he was barely 11 years old (confirmed in the direct-to-video film Beauty and the Beast: The Enchanted Christmas, where the pre-transformation prince is clearly portrayed as a tween). This has huge implications for the Beast and Belle's future sex life, and none of them are good.
For instance, the child prince was turned into an adult Beast, and then when the curse was broken, he transformed into a grown man. With the information we're given, this means he completely skipped puberty -- or at least the human version of it. The Beast never got to slowly adjust to his changing body and budding sexuality, and he probably knows nothing about sex unless he had it explained to him by a talking crockpot or something. Christ, he probably thinks he got Belle pregnant after they held hands for the first time.
Walt Disney Studios
"And you probably transferred Gaston's DNA to me after you guys fought, which is why our son has a giant cleft chin!"
The other possibility is that the prince went through these massive biological changes while in his monstrous form, which means he matured with a completely different physiological structure (a structure that included grotesquely clawed hands that would make the inevitable years of pubescent masturbation a kaleidoscope of horrors). So either he went through giant man-dog puberty or he didn't go through it at all, and neither possibility adds up to a romantic wedding night for Belle.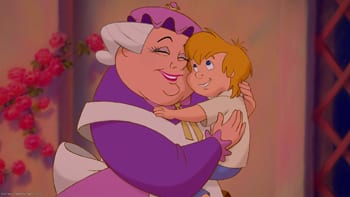 Walt Disney Studios