This is the only photo of him we can show you, because it's from the waist up.
Phillips had managed to score a few hours' worth of interview time with Allin, and had exclusive footage to help him document the story, but still needed about $10,000 to make the movie happen. Unfortunately, financiers weren't lining up to give some random college kid money to make a movie about an infamous, self-destructive maniac.
Allin, as luck would have it, was good buddies with an artist who could fetch Picasso-like prices for his scribbles. Phillips and Allin reasoned that if they could convince the guy to design a poster for their film, they could maybe sell enough of them to pay for the rest of the documentary. The only tiny obstacle was that this artistic savior was on death row in the state of Illinois. His name was John Wayne Gacy. As in, "killed over 30 people" John Wayne Gacy.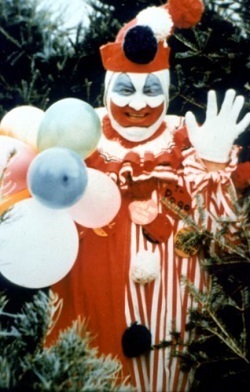 John Wayne Gacy