But before all that, McCracken was a mere poor CalArts student dicking around in his dorm.
DNA Productions
Literally.
What you're looking at is a scene from No Neck Joe, a series of shorts McCracken made, presumably with his ear to the door in case his roommate walked in. Most of the episodes are one-note. No Neck Joe tries to do something with his neck, but can't because he doesn't have a neck. He's No Neck Joe. We can go slower if you want.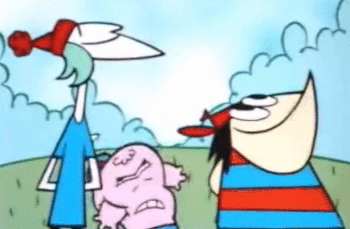 DNA Productions
The jokes just fly by at breakneck speed.
And then, at the very end of the last cartoon, McCracken included three seconds of little Joe about to stick his littler Joe in three naked girls. But why? Was he checking to see if his classmates were still paying attention? If so, we guarantee that none of those students realized they were being trolled by the guy behind their future daughters' backpacks.
DNA Productions
"Wanna see where all that neck fat went, ladies?"