The only problem was: It wasn't Jim Carrey. It wasn't even Jamie Kennedy. In fact, the guy looked less like Carrey and more like that ventriloquist dummy from Goosebumps. People should have really seen through the ruse, though, when he took the stage and instead of quipping "All righty then" or "Somebody stop me," he didn't say a goddamn word ... because the impostor didn't speak English.
Czech Film and Television Academy
"Are we done here? I gotta be Jason Segel at another ceremony."
Then he fired a confetti gun in the air like a maniac, because apparently people in Prague think Jim Carrey is Rip Taylor.
Czech Film and Television Academy
After that, "Jim" just walked away, leaving the confused presenter disappointed that she didn't get to ask the beloved comedian about his body of work.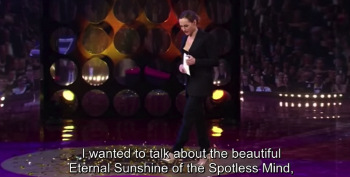 Czech Film and Television Academy
"But he'd only answer questions about Layer Layer and The Musk."
Insanely, even after a guy who didn't remotely look like Jim Carrey walked on stage and treated their awards show like a tacky wedding reception, the show's host vehemently asserted that it was the real Carrey, stating that skeptics simply "did not have a chance to recognize him." Of course, the whole thing turned out to be an elaborate prank by a TV show that wanted to get some random nobody on an awards show. At least that way the winners in the technical categories didn't feel so alone.