Although it's yet to make an appearance on the most-depressing "Only '90s Kids Will Remember This" nostalgisticle, the Siege of Dubrovnik was a hideous footnote in the messy divorce been Croatia and Yugoslavia, which resulted in several war crimes charges against some of the military leaders involved. In 1991, the city was surrounded by artillery situated on the overlooking foothills and shelled for three whole months. By some miracle, "only" less than a hundred civilians were killed during the ordeal, although the bombardment blew significant parts of the city back to the Middle Ages -- making it the perfect setting for the escapades of the Stark family and the gang.
Next time you're watching the show, look out for these locations. Firstly, there's Pile Harbor, site of the epic Battle of the Blackwater, where the waters were set alight thanks to the sheer volume of fuel from its destroyed boats.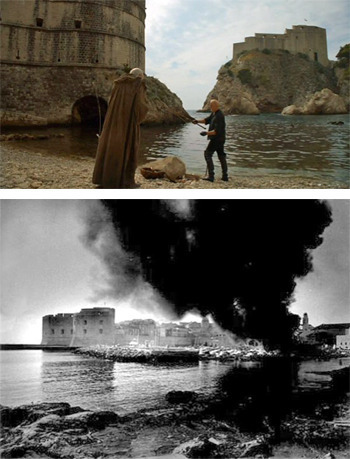 HBO, Pavo Urban
Setting fire to the water does sound like some George R.R. Martin shit.