Seeing as it's probably hobo chic in some corner of Los Angeles somewhere, people shrugged it off when news outlets revealed that wearing a plastic bag like a unitard is all the goddamned rage through posting photos of Taiwanese young people doing exactly that. But the "incredibly affordable hot look of this season," as The Daily Mail calls it, raises some dire concerns. You know how the corner of a box will tear a tiny hole in a plastic bag, and the next thing you know, the whole thing has split apart? Well, doesn't this look ready to rip open any second?
Teddy Captain
"That's why you gotta go with hemp bags, brah."
What you can't see, due to the angle of the photo, is her entire vagina-crack on display for creeps around the globe. It's a shocker that more isn't visible -- those things are transparent as hell when you even slightly stretch them. It's not exactly practical street wear, is it?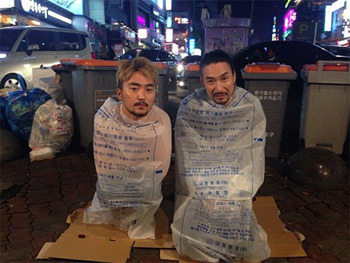 via NeoJournal.com
But the above men are wearing them with 100 percent sincerity!