"Inquire about our playlists. Guaranteed to moisten thine gentlelady's bloomers!"
The above picture is an ad for the Electrophone System, a subscription audio delivery system that operated in England from 1895 to 1926. Its main purpose was to broadcast live music shows and church sermons, which were the era's equivalent to Adele's 25 and Game Of Thrones.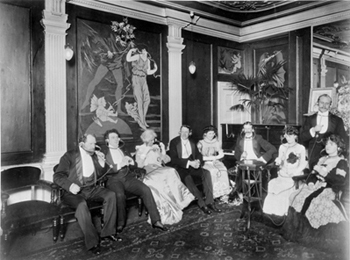 British Telephones
"Man, I keep saying they should tone down on the
sex and violence
."
The service used phone lines connected to Electrophone's special receiver. All you had to do was call them up, and a phone operator would ask what you wanted to listen to. If the user wanted to listen to a sermon, the call would be redirected to a church where microphones were installed (sometimes disguised as Bibles, because for some reason microphones were a point of contention in the Lord's house). For an opera, the operator would connect the call to the Royal Opera House, where another set of special microphones would stream the show.
British Telephones