"Hi, welcome to our totally normal community, where nothing bad happens to anyone!"
But if you paid attention five episodes prior you could have seen the obvious twist coming even earlier. When exploring a house, Michonne takes a break from lopping off zombie heads to work on her art appreciation skills. The painting she studies depicts a woman who looks exactly like the one who offers them food ... except she's covered in blood. Because she's a cannibal. Symbolism!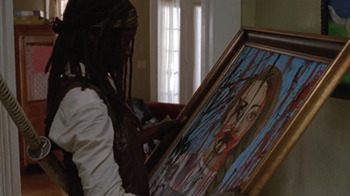 AMC Studios
"This is reminiscent of early classical bullshit."