... looking suspiciously like the pale, shambling legionnaire of the undead he would soon become.
If that's too subtle for you, another twist gets revealed via Easter egg in season four. The gang follows signs promising sanctuary to anyone who can reach the community of Terminus, because characters on The Walking Dead have no sense of pattern recognition. Upon arrival our heroes are greeted by Lieutenant Tasha Yar, who offers to feed the weary travelers. In a twist that shocked literally no one, we learn that Terminus is run by cannibals and the food that was offered up was probably the parts of Ray Liotta left over after Hannibal.
AMC Studios
"Hi, welcome to our totally normal community, where nothing bad happens to anyone!"
But if you paid attention five episodes prior you could have seen the obvious twist coming even earlier. When exploring a house, Michonne takes a break from lopping off zombie heads to work on her art appreciation skills. The painting she studies depicts a woman who looks exactly like the one who offers them food ... except she's covered in blood. Because she's a cannibal. Symbolism!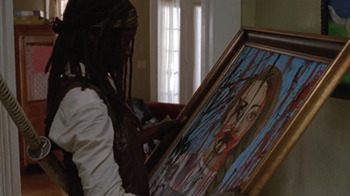 AMC Studios
"This is reminiscent of early classical bullshit."