"Which means we don't know what a star iiiiiiis!"
A Donny and Marie Star Wars has more squareness-per-second than a Mormon scrapbooking convention. It's almost like an educational scare film about whites. At least until Chewbacca comes out with Kris Kristofferson playing Han Solo.
ABC
ABC
"Man this decade just doesn't give a fuck! YEAAAHHH!"
Darth Vader even shows up to disapprovingly wag his finger at people, which is the Donny & Marie version of choking a man to death with The Force. They live in a world where violence becomes dance. To them, pure evil is a song in G minor.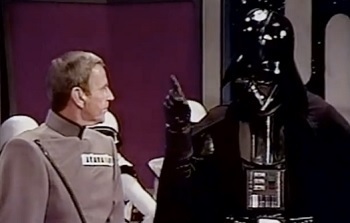 ABC