A Donny and Marie Star Wars has more squareness-per-second than a Mormon scrapbooking convention. It's almost like an educational scare film about whites. At least until Chewbacca comes out with Kris Kristofferson playing Han Solo.
ABC
ABC
"Man this decade just doesn't give a fuck! YEAAAHHH!"
Darth Vader even shows up to disapprovingly wag his finger at people, which is the Donny & Marie version of choking a man to death with The Force. They live in a world where violence becomes dance. To them, pure evil is a song in G minor.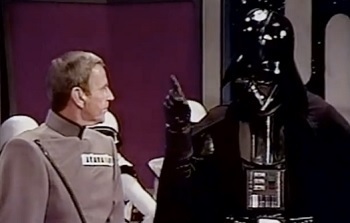 ABC
"SHAME, SHAME COMMANDER. PRAY I DO NOT SHAME YOU FURTHER."
Of course the whole thing wouldn't be quite so awkward if it wasn't for the fact that these are all the real props and costumes. It's space madness set to disco, and it all seems to have the approved-by-Star-Wars stamp on it. It's obviously not an official military operation when the Stormtroopers strut in and perform The Temptations' "Get Ready," but the Empire seems okay with them doing it in their uniforms.
ABC
ABC
ABC
"Rebel scum! Behold our pulsating plastic dick baskets!"