"It's not nearly as exciting when you have the same fetish."
Yes, we're saying that a man can be visited by the Erectile Dysfunction Fairy if his partner is on particularly good terms with his posse, and yes, we've got the science to back it up. The phenomenon is known as partner betweenness, and it appears to have something to do with traditional gender roles. Specifically, how much he feels like he controls his lady.
It's not so much that he automatically believes she's banging all of those guys behind his back -- like everything with gender and relationships, it's more complicated than that. There are a whole bunch of complex, unspoken rules in any social network ("Wait, you invited Steve to the party but not me?") and those rules follow you everywhere, including the bedroom. What the research found was that males are taught they need three things in their relationship with a woman: autonomy, privacy, and control. To put it bluntly, she may be a member of the group, but she "belongs" to him.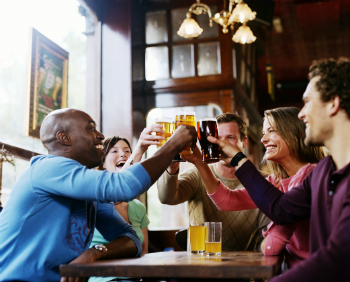 Digital Vision/Photodisc/Getty Images
"Don't forget guys, I legally own all of Ashley's jokes tonight."
"Shut up, Rob."
If she has more contact with his friends than he does -- even if it's not sexual -- then those three things are threatened and he feels like less of a man. How much less? Enough to increase chance of erectile dysfunction by a whopping 92 percent. It doesn't affect everyone (affecting about 25 percent, in their estimates), and it gets better with age and maturity, as the guy slowly figures out that a lot of what he had heard about masculinity was bullshit spouted by insecure grown-ups.
Ralf Nau/Digital Vision/Getty Images