"Did you know dynamite doesn't explode explosively enough to flip a car?" - Wall Street Truthers
An anarchist took a wagon full of explosives and 500 pounds of iron weights, parked it outside the headquarters of J.P. Morgan & Co., and detonated the giant shrapnel mine at one minute past noon. The street was turned into a bombed-out crater filled with pure carnage. All told, 38 people were killed, more than 300 were injured, and the New York Stock Exchange (NYSE) temporarily shut down. The massive blast was the deadliest act of terrorism ever committed on U.S. soil at the time. To this day, you can go there and see the original shrapnel marks from that bomb blast -- which occurred about 95 years ago.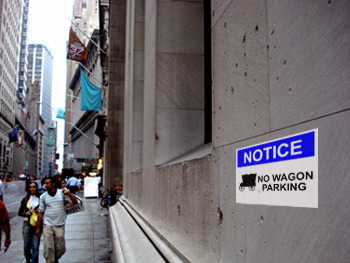 Obviously, this was a huge freaking deal, but we're willing to bet that you've never heard of it, and the reason for that is simple: It was vital to open the NYSE as quickly as possible. In the process of cleaning everything up rapidly so that the country's money could continue moving, a whole bunch of evidence was either overlooked or destroyed. The case wasn't officially solved until the FBI revisited it in 1944, but, by that point, America was super busy with other stuff.