Oh, and Dr. John Watson was originally called Dr. Ormond Sacker, which would have made the "Elementary, my dear ..." phrase sound rather awkward.
BBC
"I'll bet Sacker's good in the sack LOL" -- Everyone, forever.
Obviously, it didn't take that long for Doyle to realize there was something wrong with the Sherrinford Hope name -- namely, the "Hope" part. So he changed it to "Holmes," in honor of a famous doctor and writer. It was only later on that he banished "Sherrinford" and replaced it with "Sherlock," inspired by a 19th century cricket player, which could have gone worse.
This isn't limited to Doyle, either -- even Charles Dickens struggled with names while writing A Christmas Carol. Before landing on the most adorable combination of words ever with Tiny Tim, Dickens considered Small Sam, Little Larry, and Puny Pete. No drafts have been found confirming Diminutive Dan, Feeble Fergus, or Undernourished Uther, but it's only a matter of time.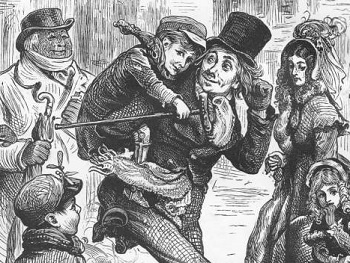 Fred Barnard