"I'm telling you: when I'm with him, I just feel the L-word."
"Lunacy?"
Before getting Mark to stab him, John romanced him vicariously through a fake Internet girlfriend named Rachel, for whom Mark fell with the intensity of Manti Te'o. John then introduced himself to Mark as the nonexistent Rachel's brother, and the two became friends. As if that weren't crazy enough, John then pretended to be a psychotic stalker named Kevin, who threatened to murder John and Rachel (who, remember, is a person who does not exist) unless Mark performed sex acts in front of a webcam, which Mark did. Finally, realizing that Mark would never love him the way he loved John's pretend sister, John cooked up the spy story -- because if you can't make someone love you, tricking them into murdering you is apparently the next best thing.
Wikimedia Commons
"See, Paul? Didn't I say we should add '
Love does not
stab people'?"
Mark, who at this point was running uncontested in the "Most Gullible Human Being to Have Ever Existed" competition, didn't know about any of this until the evidence was presented in court and John admitted to it. Hopefully, someone thought to record his facial expression at the exact moment of John's confession.
For some inexplicable reason, the judge let John off the hook, although he banned the two teens from ever interacting with each other again and prohibited John from having unsupervised Internet access ... because he likely would've pretended to be Mark's long-lost cousin or something within a few weeks.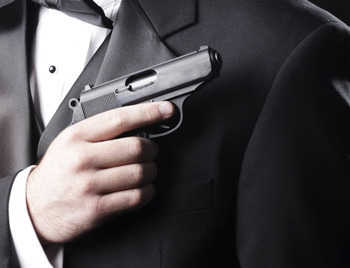 vectorarts/iStock/Getty Images
But John will return in:
License to Catfish
.