The use of incendiary devices in warfare has been recorded as far back as the year 904 in China. That's right: people were shooting at each other before the Western calendar even reached quadruple digits. Chinese artists also loved hiding gat-packing demons in their artwork, like the one at the top-right corner of this 10th-century illustration, trying to bust a cap in the Buddha.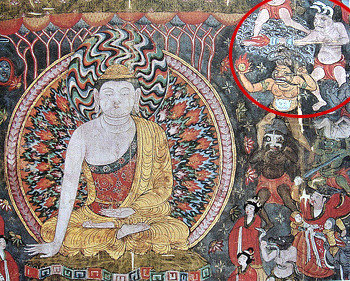 Via Wikimedia
The only "enlightenment" here is that snake-headed dude "en-lighting" your ass up.
No one knows exactly how firearm technology found its way to the West from China, but by the 14th century, guns were so well-known throughout Europe that we'd be astounded if horse-by shootings weren't a daily fear.
Alphonso de Spina
Look at his face: the demon on the left is just realizing he brought a crowbar to a gun fight.
So, why don't portraits of old-timey knights look like N.W.A. album covers? Well, it turns out that the use of gunpowder in battle just wasn't very efficient, which is why guns coexisted with other weapons in battle for hundreds of years, rather than overtaking them. But any and all efficiencies aside, you cannot deny the badassness of a medieval skeleton wielding a bazooka.
Via Strangehistory.net
Sadly, being conceived in the 1400s meant this image ended up as a fresco instead
of the heavy-metal album cover it was destined to be.