In this game, the femme fatale is SIE, who embodies pretty much every stereotype about German women -- she's muscular, she's aggressive, she has a ludicrous accent, and she likes killing. Late in the game, we find Michael tied to a bed in a facility run by the bad guys, utterly helpless. If you've played your cards wrong (or right, depending on what you're into) SIE will wander in, and Michael is not enthused by her appearance, as if he somehow doesn't know where this is going.
Obsidian Entertainment
"Here to torture me?" isn't really a classic pickup line.
SIE takes the opportunity to declare a "certain fondness" for you, because in a video game, this is the perfect time and place to express such sentiments. Her dialogue gets increasingly suggestive, and if you make the right conversation choices, she says, "I will let you go ... in a moment," before dropping her pants, to which Michael groans in dismay.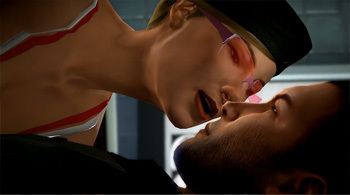 Obsidian Entertainment