So what sparked all this? Did Pluto snap and finally maul Huey, Dewey, and Louie into a downy pulp? Nope, Pluto is just shown chasing a cat, which is like half the reasons dogs exist. Well, that's enough to piss off Mickey, who warns Pluto that he's going to have to answer for his crimes on judgment day, which is really taking that pet-shaming meme to a whole new level.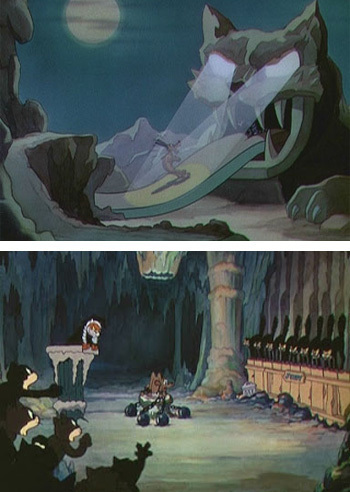 Walt Disney
Abandon all hope, all ye who dig through the garbage.
After Pluto falls asleep in front of the fireplace, a ghost cat coaxes him into cute animal Hades -- "yes, honey, your rabbit might burn in the lake of fire for chewing on the lamp" -- where Pluto is chained to a post and brought in front of a demonic cat jury. For the next five minutes, he is accused of various murders by the Cat-Devil. Oh, okay! We take it all back. Our goofy, non-Goofy dog pal does indeed have blood on his snout. The fact that Pluto had chased a cat under a steamroller and starved three kittens to death (Jesus Christ!) is plenty to warrant a guilty verdict, and the dog is sentenced to being burned alive.
Walt Disney
After the kittens, we're gonna call this "tough, but fair."