Pictured: The same happy family.
And this one: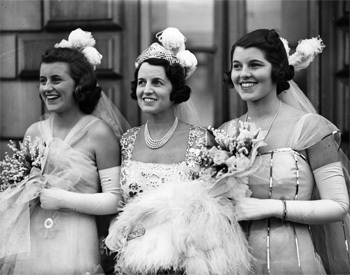 Keystone/Hulton Archive/Getty Images
Pictured: An artist's representation of the same happy family.
Yeah, about that last picture. Do you see that pretty, young woman on the right? That's Rosemary Kennedy, the eldest sister of the Kennedy clan. What, the name doesn't ring a bell? That's because three years after that photograph was taken, her father, Joseph, did something uniquely cruel to her, even by politician standards.
Joseph P. Kennedy, Sr. was notorious for having sky-high ambitions for his children, but Rosemary proved a problem for him due to her relatively low IQ scores and rebellious attitude during puberty. These symptoms are generally known in medical circles as "being a goddamn teenager," but Joseph saw them as potential for failure, especially as his daughter continued to suffer from mood swings and assertive behavior in her 20s. So Joseph decided to repair the immediate problem rather than repair himself as a freaking father.
The Telegraph
"I don't understand how money would make that happen."
What we're saying is that he straight-up lobotomized a daughter, without even bothering to mention it to his wife until afterward.
To put that sentence in its deserved context, let's do a little play-by-play: In the autumn of 1941, the 23-year-old Rosemary Kennedy was taken away from her comfortable, rich life. She was thrown into a hospital, where doctors drilled a hole in her head and cut into her brain with a tool "like a butter knife." Imagine yourself just going about your day when suddenly burly men take you away and strap you to an operating table for modern-day mad scientists to stab you in the brain until you can't recite the Lord's Prayer anymore (that's what Rosemary actually had to do during the operation). Then, imagine that just before you pass out, you find out that this was the order of your own father and no one else will know until it's too late.
Wikipedia