Our mathematicians estimate that every single one of you is now hooting and applauding wildly.
Now sure, the toons seem harmless and fun. But how long will it be until they realize that they don't need humans around anymore? We don't care how tough you are -- years of being made the butt of jokes, dropped anvils, and misfiring Acme weapons would wear on you. Who Framed Roger Rabbit? is like a dark science fiction story that tries to warn humanity of its own follies, but with a cartoon character that every young boy from the era secretly jerked off to.
Walt Disney
Her look-alike
wasn't half-bad either.
Not to mention how, despite all the entertainment they provide, the toons are treated as second-class citizens. They all live in a walled-off corner of town, and they're relegated to menial service jobs once they're not popular anymore. Forget them realizing that they're more powerful -- they're the very definition of an oppressed population, which is always a powder keg.
Or hell, how long before a human decides to weaponize them? If an aspiring supervillain wanted a giant, flying, bulletproof armadillo that shoots lasers out of its eyes, it's just a drawing board away from becoming a reality and facilitating a bank robbery. It really changes the message of the movie when you realize that Doom did humanity a favor by figuring out a way to wipe out the toons. Had his villainous schemes skewed less towards "getting rich through murder and shady real estate deals" and more "conquering humanity," what would have stopped him? At least his acts made us aware of the possibility of a wacky, silly, and comedic violent uprising.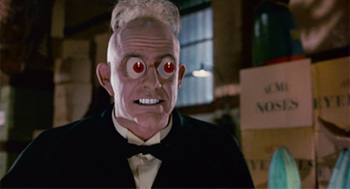 Walt Disney
Never forget.