It turns out Azazel is leading a demon invasion of heaven, and every eternally resting soul apart from Nightcrawler is terrible at fighting. Nightcrawler decides to enlist the help of his living comrades, the X-Men, by sending miniature versions of himself to create a portal to Earth, which is apparently a thing he can do now.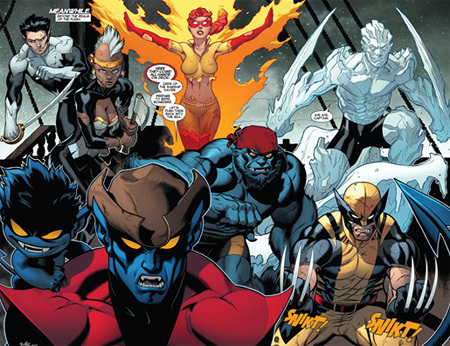 Marvel
"Make sure one of you brings back my cowboy hat. It looks good on me, and I miss it."
Bringing the X-Men turns out to be pointless, because Nightcrawler ends up solving the problem by booting his father back to Earth through the portal his junior Nightcrawlers made.
Marvel
This is exactly what happened in the Gospel of Mark.
And that's it. Nightcrawler is back on Earth, alive again and seemingly immortal considering he can just teleport between the living world and the Kingdom of God's Reward any time he feels like it. He can pretty much just charge headfirst into danger from now on, since death holds no surprises for him and is every bit as permanent as a sunburn.
Marvel
"I'll stop those robbers' bullets with my face.