Lim blew everyone's minds by (*gasp*) speaking naturally while casually referring to South Korea's rapidly increasing wealth and abundance of food, electronics, and cars that anyone could freely buy. This intrigued North Koreans, who thought that such luxuries were gifted only at the government's leisure (and mostly to government itself).
When Lim Su-kyung returned to South Korea, she was immediately arrested for crossing the demilitarized zone. North Koreans were devastated, since they naturally assumed she'd be flayed alive while her whole family got shipped to prison camps. The North Korean propaganda teams sent to chronicle her martyrdom, however, beamed back truly shocking images: Lim receiving a public trial, being represented by a lawyer, and receiving a light sentence (which would be even further reduced). Her family members, rather than being sent to gulags, gave interviews from their own homes.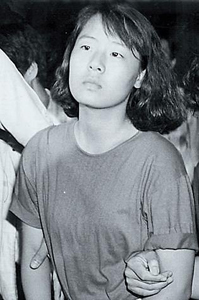 The Korea Herald
Even her prison jumpsuit was fancier than whatever Kim Jong Un's wearing.
At this point the regime realized they were just making themselves look bad and stopped hyping the Flower, but the damage was done: The number of defectors from North Korea suddenly began to increase after 1989, and many of them have specifically pointed at Lim's speeches, interviews, even her ability to wear jeans as what made them realize that the South might not actually be a hellhole.