That's the "Conn-pod" rig. And yes, it's a four-story re-creation of a giant robot head that has been mechanically designed to mimic the effects of being inside said robot as it wrestles with huge monsters. Kind of like the anti-George Lucas, del Toro wanted his big, goofy robot extravaganza to rely as little upon digital effects as possible.
So rather than simulate actors getting thrown around like rag dolls, he actually had them whip around a big metallic body sling while hosing them down with gallons of water, which was more than a little risky, considering that they were surrounded with real electrical devices.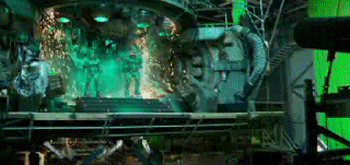 Warner Bros.
Warner Bros.
"Oh, you'll drown before electrocution sets it."
If that seems unnerving, it gets worse -- along with being on some kind of waterboarding fun house ride, the actors had to be built into the rig and physically controlled by puppeteers. That meant they not only could feel the terrifying sensation of metal rods turning them into a living Pinocchio, but knew that something as simple as taking a leak required an hour of laborious disconnections.
Warner Bros.
They were using yellow screen by the end of production.