Astoundingly, there's an explanation for this madness, and it has nothing to do with someone suffering a cocaine relapse: Tim is on the set of his show-within-a-show, Tool Time, when he learns that his special tools have been stolen, so he goes on a tour of various movie sets to recover them. As for why the presumably animatronic dragons and shit are trying to kill him, that's not explained -- it's just assumed that everyone and everything naturally hates Tim Allen.
Absolute Entertainment
"We saw The Santa Clause, you inhuman monster."
Although the first part of the game features Tim Allen swinging around the forest like Tarzan while chainsawing prehistoric creatures, the next levels range from an Indiana Jones Mayan temple to the final boss fight, which is a giant robot battle on Mars. If we accept the "This is Tim's coke-fueled fantasy" theory, this is the part where he starts a street fight with a hooker.
Absolute Entertainment
After this, they cut to him naked, trying to wrestle Richard Karn's beard.
Even if you managed to ignore Tim Allen's likeness and tried to enjoy this as just another good old fashioned dinosaur-punching, robot-killing SNES game, it still wasn't worth playing. The gameplay was tedious and the controls were unclear, since the instruction manual was more of a novelty item thanks to this sign in the middle: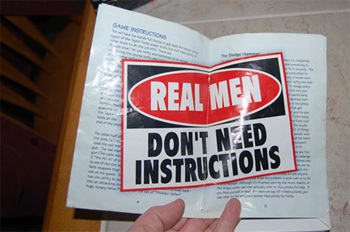 youchew.net/forum
"Or plot ... or logic ... or ..."