Scheidt helped himself to some scrubs and a stethoscope and wandered away to the depths of the hospital in search of patients. How long would you say it'd take to get caught doing something like that? A few hours? A day? Nope -- for several fucking weeks, this pimply faced youth Doogie Howsered his way around the emergency room. Despite clearly being, well, a kid, he was fairly convincing and knew a bunch of hospital terminology (it must not have occurred to his new colleagues that so does literally everyone who has ever watched TV). Since he seemed to know his shit and his credentials checked out, he was allowed to roam free, handling IVs, conducting medical exams with real professionals, and even administering CPR to an overdosing patient.
Stockbyte/Stockbyte/Getty Images
"I imagined my first kiss going differently than this."
Scheidt was eventually caught and arrested before he accidentally killed anyone. This, however, did nothing to keep him down. Just months after his arrest, our out-on-bail hero fashioned himself into a police officer. A real undercover cop happened to bump into Scheidt, who was sitting in a fully equipped undercover police vehicle, typing on the dashboard computer and gleefully identifying as an officer of the law. He even reprimanded the real cop for not wearing a seatbelt. When perplexed police officers searched the car, they found it stuffed to the brim with cop gear: Somehow, Scheidt had managed to get his hands on an Osceola County sheriff's shirt, a real badge, handcuffs, a stolen police radio, and, oh yeah, a Taser and a fully loaded handgun.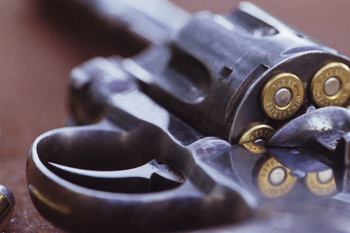 Comstock/Stockbyte/Getty Images
Boys will be boys.