Scheidt was eventually caught and arrested before he accidentally killed anyone. This, however, did nothing to keep him down. Just months after his arrest, our out-on-bail hero fashioned himself into a police officer. A real undercover cop happened to bump into Scheidt, who was sitting in a fully equipped undercover police vehicle, typing on the dashboard computer and gleefully identifying as an officer of the law. He even reprimanded the real cop for not wearing a seatbelt. When perplexed police officers searched the car, they found it stuffed to the brim with cop gear: Somehow, Scheidt had managed to get his hands on an Osceola County sheriff's shirt, a real badge, handcuffs, a stolen police radio, and, oh yeah, a Taser and a fully loaded handgun.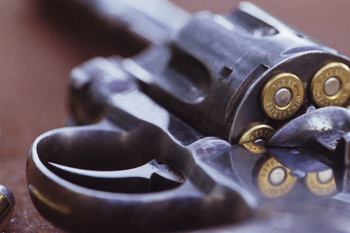 Comstock/Stockbyte/Getty Images
Boys will be boys.
We're not sure what would've happened if he'd been able to continue that con for a few weeks, but we're guessing the Osceola Regional Medical Center's ER would have been quite a bit busier than usual.