"We'll never forget you or your ridiculously large belt."
That would have been fine if whatever intern is in charge of The Walking Dead's Facebook page understood the concept of time zones. The show aired on the East Coast two hours before it reached the West (one hour before central), and that touching tribute was uploaded immediately after the credits rolled. So all those Californians who idly checked their Facebook feed while waiting for the episode to reach them had it spoiled. They responded with their own photos and impact font:
AMC/Facebook
"Well, West Coast, no one is
making
your dumb asses live in the past."
Nameless AMC Intern #27 quickly realized their mistake and pulled the photo, but it still appeared in people's feeds thanks to Facebook's algorithms and other people sharing it to make fun of it. That left the Walking Dead team with no choice but to apologize and promise it wouldn't happen again.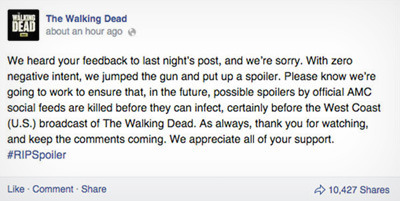 AMC/Facebook
"We'll continue to ignore your feedback about the overall quality of the show. Thanks for watching!"
Presumably this will be accomplished by sending every new employee to eight hours of Time Zone Camp. Don't miss the lunchtime lecture on daylight savings!