We then cut to an explicit sequence of chocolate, milk, and ice spraying all over the woman's mouth. The soundtrack and editing make it look like a montage from a porno parody of Requiem for a Dream, complete with the inevitable conclusion.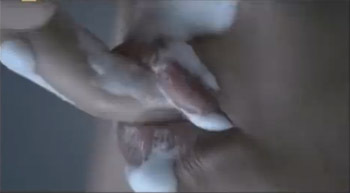 KFC India
In our day, "Finger lickin' good" was innuendo enough.
Several shots of this, along with scenes of the girl sensually licking her lips, make it clear that, yes, it's not just your filthy imagination: The milkshake symbolizes semen. Because what better way to get people to buy a drink than to insinuate that they're going to chug down several fluid ounces of baby batter?
Ignoring that the only people who find KFC erotic are just a few Double Downs away from a double bypass, who wants to associate milkshakes with money shots? Most people don't like getting ejaculated on at the best of times, let alone while they're trying to eat. We're surprised the slogan isn't "Come to KFC and get a load of cream to the face!" We joke, but we're not far off -- at the end of the ad, a woman coos, "Really thick. Really tasty." In a remarkable display of restraint, she doesn't add "Like a cock."
KFC India
The first cut had him eating this with one hand.
The apparently sexually repressed creative head of the commercial insists that it has no sexual overtones, and that they were simply trying to "romance the ingredients," because when you decide to shove a bunch of fat-filled ice cream and milk down your throat, the first thing you think of is definitely romance. Meanwhile, KFC's marketing director says he's happy with the output, which men usually are when the output is semen.