In the resulting disaster, a man is enjoying his Artery Buster Special when he notices a woman making bizarre kissy faces at him while sounding like she's trying to suck molasses through a silly straw. We guess it's supposed to be erotic, but it makes us imagine two vacuum cleaners fucking.
KFC India
Hey, guys, isn't it hot when a woman gasps for air?
We then cut to an explicit sequence of chocolate, milk, and ice spraying all over the woman's mouth. The soundtrack and editing make it look like a montage from a porno parody of Requiem for a Dream, complete with the inevitable conclusion.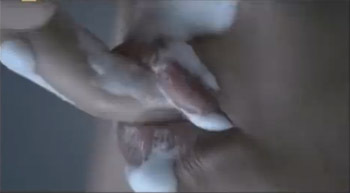 KFC India
In our day, "Finger lickin' good" was innuendo enough.
Several shots of this, along with scenes of the girl sensually licking her lips, make it clear that, yes, it's not just your filthy imagination: The milkshake symbolizes semen. Because what better way to get people to buy a drink than to insinuate that they're going to chug down several fluid ounces of baby batter?