This is partially because he's a ninja with grenades, but also because he combines two very important immersive elements: Not only is his face concealed, he's also a mute. Depending on whom you ask, that's either due to the face full of helicopter shrapnel he received, because he took a vow of silence until he can one day avenge the death of his master, or because it's just really, super cool.
Hasbro
His tertiary weapon is a fucking wolf.
Generally speaking, we more readily identify with masked figures, since we can project ourselves onto them. It's the same reason most video game protagonists are strangely quiet. Well, that, and the vicious strain of strep that devastated NintendoLand back in the '80s.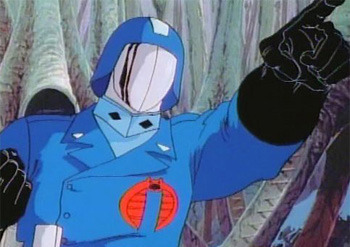 Hasbro
That whole mirror-face thing just clicked, didn't it?