Anyway, the show mostly dealt with several time travelers from the machine-dominated future bumping into each other: Terminators sent to terminate things, members of the future resistance sent to terminate Terminators ... hell, they even had Terminators sent to terminate Terminators. In short, it was a fun time for the whole family.
The Cliffhanger:
Basically, they undid the whole Terminator franchise in two minutes.
In the last episode, a time machine dumps young John Connor and Weaver the Friendly Terminator in the post-apocalyptic future where John is the legendary leader of the rebellion against the machines. However, because John left his spot in the present and never grew up to resemble Christian Bale, no one in this future has heard of him ... effectively wiping out the premise for the entire series. Even John's dad, Kyle Reese, is there and doesn't recognize him, and that guy was like the Connor family's #1 fan.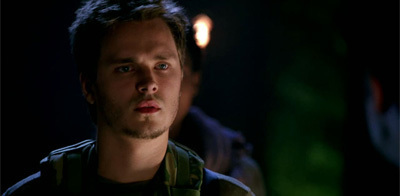 The Halcyon Company
And without future John as his role model, Kyle ended up going with a decidedly more metrosexual look.