The Truth:
Phrases like "shiver my timbers" and traditional pirate songs like "Fifteen Men on the Dead Man's Chest" were made up by Robert Louis Stevenson for his novel Treasure Island, published in 1883 -- over 150 years after the end of the Golden Age of Piracy. We might as well tell you right now that 90 percent of all pirate tropes come from the same book: One legged pirates, squawking parrots, drunken mutinies ... all that stuff can be traced back to Treasure Island.
Yes, pirates did lose limbs in battle, mutiny on occasion and get shitfaced a lot, but Stevenson was the first to combine those elements into one package, creating the popular image of pirates.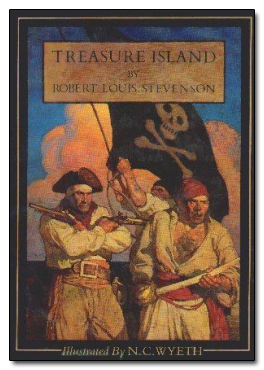 Belts cinched up below the nipples, that's the Pirate Way.
But what about the "arr" voice? That actually comes from the West Country accent from the southwestern portion of England. In the 1950 Disney adaptation of Treasure Island, Robert Newton played a pirate from the West Country and overdid it a little with the accent, throwing "arr" into every other sentence. Two years later Newton used the same accent in Blackbeard the Pirate, and the stereotype was cast.