It took us to dinner first, so we felt kinda obliged to take a whiff.
The odor of those on the non-meat diet was consistently rated as more attractive, even when the groups switched diets and were tested again a month later. According to the scientists, these results suggest that eating red meat has a negative effect on "perceived body odor hedonicity," which we assume is science-talk for "smelling like a goddamn werewolf."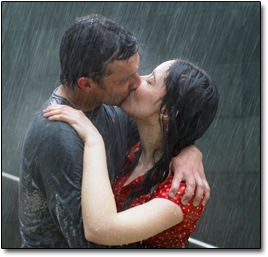 Getty
"Can you smell wet dog?"
So far, there's no medical explanation for why this occurs, although the popular theory is that undigested toxins in the meat get secreted through the pores of the skin. That either generates the meaty stink directly, or the odor is caused by bacteria that subsequently gather on the skin to feed on the secreted toxins.
Either way, this helps explain how white guys with dreadlocks get laid, despite totally sucking at that acoustic guitar they insist on playing at every party. Each missed shower builds up their natural, vegetarian body musk into a stink cloud that women find irresistible.