Just oil yourself up with the still-warm blood of your latest kill and you're ready to be served.
That is, unless those ladies place a high emphasis on not smelling like garbage. In a 2006 study, 17 men were put onto a two-week diet -- one group consumed red meat, while the other did not. At the end of the two weeks, samples of their body odor were collected and presented to 30 women, who were made to take a whiff of each odor and assess it on its "pleasantness, attractiveness, masculinity and intensity," though we can't imagine a vial of man sweat doing anything but unequivocally failing those first two categories.
Getty
It took us to dinner first, so we felt kinda obliged to take a whiff.
The odor of those on the non-meat diet was consistently rated as more attractive, even when the groups switched diets and were tested again a month later. According to the scientists, these results suggest that eating red meat has a negative effect on "perceived body odor hedonicity," which we assume is science-talk for "smelling like a goddamn werewolf."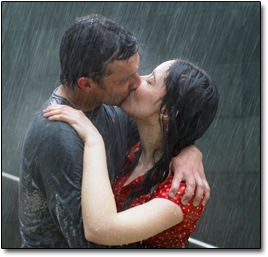 Getty