But when he opens his mouth, we realize he's not the emotionless, hardcore, aggressively Austrian Arnold we've all come to know and tolerate -- his voice has been overdubbed by that of a giddy, excitable Southern goofball. Grinning like an idiot, Chief Master Sergeant Candy is all "Howdy" and "Shucks," like the biggest, dumbest cousin of Cletus the Slack-Jawed Yokel. The voice is ridiculous, the dubbing job is jarring and unsettling and the whole concept of the scene is utterly pointless.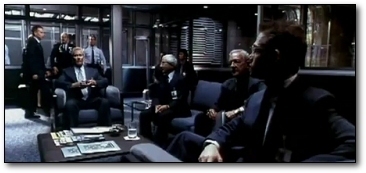 "The Chairman of the Joint Chiefs has a muscle fetish and wants an easy lay. It's our job to hook him up."
Obviously the filmmakers need to explain why Terminators don't sound like the Rich Texan from The Simpsons, so one of the executives says he doesn't like the accent. Then the man in the screenshot below turns and, in an aggressively Austrian accent, says, "We can fix it."

Also, he looks sort of like Arnold, too, for some reason.
Get it? The idea is that they liked the body of Arnold, but he had a ridiculous Southern accent, so they replaced it with the voice of some unnaturally deep-voiced scientist! That's exactly the kind of wacky comedy you crave in a movie about time-traveling robot monsters.

Why is he on that treadmill? What new, useful data could that possibly provide robot scientists?
Why It Would Have Ruined the Movie
This scene, trying to explain why all the Terminators look like Arnie, is bewildering for so many reasons, and not just because it was a question that literally no one was ever asking at any time. We've accepted the fact that Terminators have to be naked when they go back in time because clothes can't time travel, or whatever, we're already on board with your logic at its most bullshit-tastic; you don't need to explain anything to us.

Sure. The robots have to be naked and covered in skin to travel through time. That's perfectly logical.