The 6 Most Innovative Brothels From Around the World
As with all things, whorehouses must adapt and change with the times. Prostitutes must become better, stronger and more resistant to disease.
As such, some brothels have endeavored to offer their clientele something more than just a stained mattress and a glassy-eyed companion. Many, in fact, go above and beyond to make your whoring experience downright magical.
Big Sister
Despite the potentially creepy incestuous nature of the name, it's actually a play on Big Brother, which is to say this Prague brothel is under video surveillance at all times.
The good news is if you feel like dipping your wick in the muddied waters of a Czech prostitute at this establishment you can pretty much do it for free. The bad news?
It's free because the dirty, dirty nookie is subsidized by all the people who will be watching you at home on their computers. That's what the cameras are for. So while performing the act, try not to think of the thousands of subscribers, their sweaty buttocks irreparably staining their swivel chairs and their greasy, Cheeto-dusted fingers gumming up their keyboards, occasionally pausing to make a screen cap of you mid-coitus to save as their desktop wallpaper.
Bordels Mobiles de Campagne

If one word is synonymous with the French, it's whores. Ask anyone from Europe or every province in Canada except Quebec.
It's only natural then that, during times of strife, say a war, the French aren't about to give up their whoring just to save their own asses. During the first and second World Wars as well as the Algerian War and the Indochina war, mobile whorehouses, basically just large trailer trucks with about 10 whores per truck, were set up to service French soldiers who couldn't take time away from being shot at to go back to a town and find an old fashioned brothel.
According to our friends on Wikipedia, these were officially organized by the army, meaning at some point in time, someone in the French military basically held the rank of pimp, which is probably the coolest thing anyone in the French military has ever done. In fact, see that image at the top of this entry? That's not a stock photo. The approach to whoring was so popular, there are still traveling whore vans that roam the French countryside today offering up illicit services that you barely have to get off your ass to receive.

Like this, but slightly more French.
We're not about to make any jokes at the expense of the French military fighting prowess or their skills at achieving victory and not surrendering, but if we were, we'd make them in such a way as to suggest a whole army of Frenchmen were apparently too busy getting the clap to bother saving their own asses from, say, the Nazis. Not that the clap isn't wonderful, it's just that much sweeter if you can get it during peace time. So we hear.
Bunny Ranch
Cornering any market is difficult, even when you're a whorehouse owner selling moderately well-used ass. You need to do something to stand out from the crowd.
The owner of the Bunny Ranch, apparently sick of competing with all those other brothels in Nevada, tore a page out of the infomercial guide to selling, and began to offer special deals. Like the first 50 servicemen to come to his brothel after coming home from Iraq would get free tang and for the next 50 days, it was half off for all the rest. Nothing says patriotism quite like discount sex with a stranger.
Finding that this is a reasonable method of advertising, he'd also run holiday specials, like free debauchery for 200 serviceman over Thanksgiving (bring your own "stuffing" jokes). We're hoping this Labor Day they have a coupon for pale, internet comedy writers to touch a boob for $5.
Soapland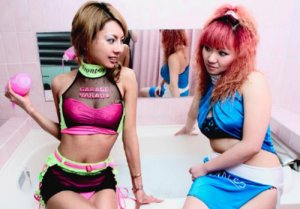 Not a specific brothel, rather a whole brothel industry in Japan, Soaplands can be found in any red light district and, oddly enough, offer what the name suggests. If you're feeling dirty in more than one way you can go in and get lathered up by a prostitute.
This type of service can cost as much as $1,000 so presumably you want to really roll around in some mud beforehand to make it worthwhile. The gist of the service is you get washed from head to toe while you sit in a special chair that lets your bits hang free so they can get a good grip on them.
According to Wikipedia, round two of the fun happens when your new friend for hire greases up her whole body and then just rubs herself all over your squeaky clean hide, which we imagine creates an effect something like trying to hug a fresh caught bass whilst naked.
After all this occurs, if you're not too bored or sleepy, apparently you can then engage in sex and, because you paid for a good washing and slip n' slide session it technically no longer fits Japan's definition of prostitution. In fact, based on what we know of Japan, it probably doesn't fit their definition of remotely kinky.
Pascha
Germans apparently love whoring on an epic scale. So much so that the city of Cologne is home to the Pascha brothel, a 12-story, 27,000-square-foot tower that houses 120 prostitutes and services as many as 1,000 customers a day. This is what happens when whorehouses take on a McDonald's service attitude. It's not fast poon, it's good poon fast!
The Pascha was basically created so the local government could keep all of its prostitutes in one clean, easy to track place. Women are rented rooms for 180 euros a day which includes meals and a German booty tax. One floor is for low-cost fun, another is for transsexuals and we assume one is for shizer video production.
It also features a hotel, several bars and a pizza delivery service which, honestly, has us clicking around for plane tickets. Again following the fast food model of business, Pascha features a money back guarantee if you're not satisfied which makes us wonder if you have to take the unused portion of your lady to the front desk so you can get a refund.
And lest you think it stops there, customers over the age of 65 get half-price afternoons. It can't make the senior's coffee at McDonald's taste any better to American geriatrics, knowing the men they fought on the beaches of Normandy get half-price handjobs for their 65th birthday.
Daily Planet
Located in Melbourne, Australia, the Daily Planet brothel not only has an awesome name (probably designed so you can make lame Superman jokes while banging a prostitute) but it became the first brothel ever to be traded on the stock exchange back in 2003. Claiming annual profits of about $2 million in Aussie money, which we assume is still probably a decent amount of cash, this seems like a winner to have on any investment portfolio.
The brothel has won Australian Adult Industry Awards, something we assume was made up by the brothel itself, and features not just sex for money, but pinball, pool tables and a friggin' jukebox. It's like the best arcade ever.

This, but more whores and less children.
And if the itch in your crotch isn't enough to help you remember your visit, you can also check out the gift shop and pick up a nice Daily Planet mouse pad. Won't everyone at work be impressed when you're surfing porn using the mouse pad you picked up at a whorehouse?
Better yet, if you liked your visit and plan to return, you can join the Platinum Club which gives you a keychain and pen as well as a membership card. Visit 9 times and your 10th is free. It's just like those Subway club cards, only this one you don't want falling out of your wallet while showing off the new baby pictures to your mom.


More of Ian's writing can be found at Scenic Anemia.


If you liked that you'll probably enjoy our look at The 25 Most Disturbing Sex Toys. And don't forget to check out Internet Party 2: An Intervention for MySpace to see which sites you shouldn't be inviting to your next intervention.
Scroll down for the next article