Six Degrees of Paris Hilton: The Global Reach of One Vagina
They say we're no more than six degrees of separation from everyone in the world. So, for instance, you don't know Harrison Ford, but you know a guy, who knows a guy, who knows a guy who knows Harrison Ford.
What you probably haven't heard is that you most likely are no more than six degrees of sex from Paris Hilton's vagina. Pick any random person, and if you dig hard enough you'll find that they had sex with somebody, who had sex with somebody, who had sex with Paris.
We'll demonstrate. Let's start with an easy one, say, '70s porn star John Holmes:
Paris Hilton to John Holmes
So the chain of boning goes ...
From Paris Hilton to Tom Sizemore


She denies even knowing him, but Tom Sizemore claims in his homemade sex tape, Tom Sizemore's Sex Scandal, that a teenage Hilton seduced him in his home gym after a party. There's a photo of the two getting close at the party in question, and she does like guys who make homemade sex tapes.
From Tom Sizemore to Heidi Fleiss


Sizemore was also engaged to infamous Hollywood madam Heidi Fleiss. He also liked to smack her around, leading to a 2003 jail sentence for assault and battery. Tom Sizemore's Sex Scandal also reveals that he has her name tattooed in inch-high letters above his genitals. If you ever run into Tom, it's probably best to just take his word on this.
From Heidi Fleiss to Charlie Sheen
Speaking of people who nailed the Estevez/Sheen clan, Fleiss' most prominent client was bad-boy actor Charlie Sheen, who testified in her tax-evasion trial that he spent $50,000 on the services of 27 of her escorts. Did he sleep with the madam herself? She still holds such a degree of ill will toward him that it's almost impossible not to think he literally screwed her over.

It hardly matters--it's trivial to link Sheen back to Hilton (through Robin Wright Penn and Colin Farrell is just one way) so let's just move on.
From Charlie Sheen to Ginger Lynn
Not only did Charlie Sheen hook up with '80s porn star Ginger Lynn, but he managed to hold down a relationship with her from 1990 to 1992. They also did a stint in drug rehab together, which, for Charlie, means real commitment.

Charlie and his dad, Martin, even wrote letters to the court in support of Lynn during her 1991 tax fraud trial, though this didn't stop her from spending four months in jail, most of which we can safely assume featured a lot of showering, cat-fighting and situational lesbianism.
From Ginger Lynn to John Holmes
Ginger Lynn had a sex scene with Holmes early in her career, in the film The Grafenberg Spot. The real-life inspiration behind Dirk Diggler, Holmes claimed 20,000 partners in his lifetime. But while he may have had Wilt Chamberlain's numbers, he had Magic Johnson's luck--he died of complications from AIDS in 1988, at 43.
Actually, it seems kind of obvious now that we point it out. Let's up the degree of difficulty a notch.
How about a member of the royal family from the notoriously sexless United Kingdom?
Paris Hilton to Prince Charles
Paris Hilton to Colin Farrell
It was bound to happen: First, Paris Hilton and Colin Farrell bumped into each other while he was promoting Alexander and she was being filmed for Barbara Walters' TV show The Ten Most Fascinating People of 2004, and then they bumped uglies. Farrell being perhaps the preeminent man-whore of his day, the hookup was inevitable. Also, 2004 must have been a pretty dry year for fascinating people.
Colin Farrell to Elle MacPherson
Only a month before Elle MacPherson dumped Swiss financier Arpad Busson, she was spotted on a beach in the Bahamas with Farrell. Shortly thereafter, she went on a romantic dinner date with Al Pacino. She denies anything happened with Farrell, but if you were hanging around one of the greatest actors of his generation, you wouldn't own up to having anything to do with a scrub like Farrell either.
Elle MacPherson to Bryan Adams
The best move Bryan Adams ever made was to put down his old six-string and pick up a camera. That's because his hobby put him in the prime position to romance MacPherson, who's got a taste for photographers, having been married to French fashion photographer Gilles Bensimon in the mid-'80s. (It's also because his music started to suck.)
Bryan Adams to Princess Diana
Had the pockmarked pop star been any other musician in this article, his biggest hit might as well have been titled "(Everyone I Do), I Do It For You." But Adams went for quality over quantity. Adams laid his groundwork by cutting a b-side named after Princess Diana in 1985, then bode his time for 11 years, finally making his move after her divorce.

It's comforting to think that at least one photographer brought a few moments of pleasure to the late princess's life before his paparazzi brethren hounded her to her death.
Princess Diana to Prince Charles
Well, no mystery about whether these two hooked up, since their marriage was watched by 750 million people worldwide and produced two handsome princes. It's not even a mystery that the jug-eared royal scion would cheat on the beautiful princess with Camilla Parker Bowles, whose looks can be charitably described as "dowdy." The heart wants what it wants, after all. No, the real mystery is what Prince Charles thinks of Hilton's galling pronouncement, "I think every decade has an iconic blonde--like Marilyn Monroe or Princess Diana--and right now, I'm that icon."
Happy now? Now you know Prince Charles is just five sexual partners away from having the same sexually transmitted diseases as Paris Hilton.
Seriously, we can do it with anybody. Pick anyone, the most outrageous, remote possibility.
Osama Bin Laden, you say?
Paris Hilton to Osama Bin Laden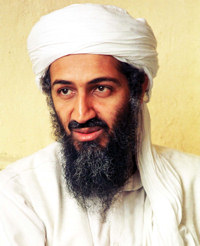 From Paris Hilton to Lindsay Lohan
Hilton and Lindsay Lohan notoriously feuded after a heated nightclub argument. The tiff gave the world the word "firecrotch," coined in a verbally explicit video by Hilton's pal, oil heir Brandon Davis, who also made the improbable claim that Lohan's clitoris is seven-feet long. Judging by the widely available upskirt photos, it's not.

But her fellow vagina-flasher Hilton should know for sure: The publicist who claims Hilton had a Sapphic fling with Britney Spears says she walked Lohan's well trodden red carpet as well.
From Lindsay Lohan to Jude Law
One video reveals Lohan taking time between lines of cocaine to brag of her plans to fly to New York to have sex with Law, and widespread media reports of them together suggest that she made good on her boast.
From Jude Law to Cameron Diaz
Law and a recently single Cameron Diaz bonded while making The Holiday in 2006, resulting in the two enjoying a week-long series of dinner dates the following year, and then a vacation to Hawaii. Though they denied reports of a relationship, eyewitnesses report the two nuzzling and Diaz kissing Law's neck.

"Jude is charismatic, fun, open and charming," Diaz told the press. "It is very easy to fall in love with him." How couldn't you love every little hair left in his head? It's certainly easier than enduring his wooden acting.
From Cameron Diaz to Djimon Hounsou
In 2007, Diaz showed that diamonds are a girl's best friend by hooking up with Blood Diamond star Djimon Hounsou on the dance floor of an LA club. "They were dancing really close, bodies pressed together," a source told People. "They were totally vibing each other, lip-on-lip action."

According to the New York Post, the couple cozied up to each other at a table before leaving together in Diaz's black Prius, with her all smiles and him with his head down, hiding his face under his cap. We're assuming that "face" here is a polite replacement for "visible erection."
From Djimon Hounsou to Kola Boof
A woman claiming to be Hounsou's girlfriend says Sudanese author Kola Boof slapped, punched and threw her to the ground after she discovered Hounsou and Boof in a torrid embrace next to his bed. Ingrid Lessey told the Associated Press, "This woman is nuts! For the last eight months, she has called me a white bitch, thrown a Frisbee in the street and then locked me out of the gate of my own boyfriend's home when I went to get it, slapped me, thrown ice cubes at me and my sister, killed my goldfish, stolen jewelry that Djimon bought for me and refused to give it back, and she's just a total evil, vicious person. She's bonkers! She needs to be in a mental institution."
From Kola Boof to Osama Bin Laden
Speaking of totally evil, vicious people, Boof is also notable as the former mistress of terrorist Osama Bin Laden.

Morocco's Prince Fabrizio Ruspoli confirms that bin Laden imprisoned Boof as a sex slave at Ruspoli's estate for six months in 1996, where she says he raped her violently and repeatedly. Just in case you needed confirmation that he was a bad guy, this is about as bad as it could possibly get--almost.
Well, that just about does it. If that doesn't convince you that all of humanity is really a single organism connected by the common thread that is Paris Hilton's vagina, then nothing will.
Oh, all right. One more.
Paris Hilton to Adolf Hitler
From Paris Hilton to Robert Evans
Hilton is also rumored to have broken up the sixth marriage of septuagenarian Hollywood playboy Robert Evans, after wife Lesley Ann Warren grew jealous of his spending too much time with the socialite.

Hilton conspicuously shouted, "You're so sexy, Bobby!" and "Bob, you're so hot right now!" while Evans gave a speech at a party for Hilton's former fling, Brett Ratner. But frankly, this affair is hard to believe. What could an ambitious young starlet like Hilton possibly get out of sleeping with a famous old film producer?
From Robert Evans to Grace Kelly
And now we come to some hard choices. Truth be told, this article could have been populated wholly with names leading from the myriad paths stemming from Paris Hilton's unholy union with Evans, including such unlikely choices as Dracula actor Bela Lugosi and playwright George Bernard Shaw. But then it would have been an article about Robert Evans' legendary skankiness, not Paris Hilton's. And so we must choose one path to follow. Here we go.
From Grace Kelly to John F. Kennedy
Before marrying Prince Rainier of Monaco, Grace Kelly enjoyed what Dennis McDougal's The Last Mogul calls "a distinguished history of Hollywood promiscuity," with collaborators including Evans, Bing Crosby, David Niven and the Shah of Iran.

Another notable tryst took place in the early '50s with randy future president John F. Kennedy, who was then using Hollywood as his personal playground. (Incidentally, JFK Jr. links to both Madonna and Princess Di--a chip off the old block.)
From John F. Kennedy to Inga Arvad
Of course, from JFK, one can easily link to Jacqueline Kennedy, and then to Greek shipping magnate Aristotle Onassis, the predecessor of Hilton's former beaus Paris Latsis and Stavros Niarchos III. Or one could link to Marilyn Monroe, whom Hilton considers her own predecessor. And from there, one could link to slugger Joe DiMaggio, playwright Arthur Miller, and JFK's brother Robert F. Kennedy.

But instead, let's link to Inga Arvad, a Danish journalist whom JFK dated as a young naval officer from 1941 to 1942.
From Inga Arvad to Adolf Hitler
Inga Arvad is also known for having one of the best seats in the house when Jesse Owens shattered the idea of Aryan racial superiority by winning four gold medals at the 1936 Summer Olympic Games in Berlin, as she was there as Adolf Hitler's companion.

Hitler said she was the perfect example of Nordic beauty. In return, she said, "You immediately like him. He seems lonely. The eyes, showing a kind heart, stare right at you. They sparkle with force." She later claimed that nothing happened between them, but so would you.
Peter can usually be found writing at the always hilarious Man vs. Clown, where he will be posting even more baffling Paris Hilton hookup chains in the coming days.
If you liked that you'll probably enjoy our look at The 10 Most Unlikely Celebrity Porn Stars. And in anticipation of the sequel (dropping tomorrow) be sure to polish up on our hit video Internet Party. Or head to the brand new Official Cracked.com Store and become a startlingly attractive walking advertisement for our site.
Scroll down for the next article